An Easy Free Step-By-Step Beginner's
Guide To Market Your Real Estate Business Online
Do you need to get your property business online?
Starting a website, social media accounts for your business, deciding how to post valuable content and creating a marketing sales funnel can be a daunting prospect if you aren't technically inclined. You may have been putting it off for years now, yet another "I really should…" on your to-do list. That's OK! It's not unusual to be intimidated by the prospect of taking your business online. You're definitely not alone.
In this comprehensive guide we'll be talking you through step by step how to take your property business online. We'll keep it as tech-free as we can and when it does get a little more technical we'll take it slow, provide videos and offer suggestions for how you can outsource that particular section.
Unlike most guides we aren't just going to be showing you how to set up a website. As well as digital marketers we also work in the property world. Both for clients and our own property companies.
As such we'll start with the business of property, getting your messaging and brand set up and working out what it is you actually want to market rather than just sticking up a website and hoping! (Hint: A website is just ONE component in the whole digital marketing puzzle!)
Affiliate note: We believe in transparency. If you do use any of the tools we recommend using the links on this page, we do receive a commission at no additional cost to you. In fact with some tools you'll actually get discounts or longer trial periods when using our links. We could get these commissions by referring any tools (as most company's run affiliate schemes) but we only recommend products and services we actually use ourselves and believe will add value to your business. Some of the best commission rates actually come from companies with poor customer service scores – Godaddy is a great example of a very generous affiliate programme with reportedly poor customer support and as such you won't be seeing us recommend it here! 

Parts of this guide will be incomplete: We had to make the difficult creator decision of going live with 90% of the work completed, or delay for another 4-5 months for the final 10%. Knowing the high value to your business in the 90%, encouraged us to avoid perfection. The guide will be periodically updated with the latest tools and techniques.
Who is this guide on online property business for?
We work with a lot of different people in the property world. Very broadly property entrepreneurs need have two needs that online marketing can help with:
looking for BMV (below market value) properties
looking for investors and angel financing
Another way to describe who this guide is for, is by defining the typical roles within the 'property world':
Sourcing Agent
Property Investor
Service Provider eg. Mortgage Broker, Conveyancing solicitor, Surveyor, Accountant, Tax Specialist, Architect
Coach, Mentor or Property Educator
The FOCUS In this guide we'll be showing you how to build an online infrastructure for both of these needs; both finding off-market properties to buy direct from the vendor and finding angel investors to invest in the deals you are sourcing.
First up though, why do you need to be online? 
Approximately 3.2 billion people are using the internet. That's roughly half of the world's population.
In the Social Media world, Facebook Has 2.41 billion active users. 1.59 billion of these users log in daily.
These statistics are important because of the following question: How many of these customers do you need to change your entire life? Change the fortune of your business? If you are not sure, just do a broad stroke calculation.
Desired Revenue (divided by) average product/service price = number of customers.
Now as a percentage of the 3.2 billion internet users, how many do you need? 
Is a surprisingly low number.
We've established that you only need a tiny fraction of the internet to pay attention to your business' online presence to affect the future of your business positively. Now let's look at two key points on why you need to be online (there are more than two, but we feel these are the most important)?
Firstly, make it easier for your clients, vendors or potential angel investors to see you – at scale. Imagine constantly going to your top 10 angel list every month to present them your deals and catch them up with what you are doing over coffee. That is potentially 2-3 days packed with meetings. And a lot of coffee. Or you could leverage what we will be teaching in this guide and constantly show 100's of people what you are doing (in their own time).
Secondly, position yourself as an expert in your property niche. This falls into brand building and brand awareness. The core principle here is that by demonstrating that you are an authority, you gain the trust of your customers. If you see this guide through, you will position yourself as an expert in your property niche.
Finally, I know I said there are two, but as we wrote this guide we thought sharing a bonus reason was important. That reason is historical documentation. Imagine your client looking back at your work from years ago. It is all there online. That is more powerful than sending them a brochure highlighting past projects (with the evolution of companies like Amazon, Trust Pilot, Independent Blogs – Customers are getting smarter). Another reason why we added this, is we know the impact of NOT doing this. We as a company spent years marketing other brands, but in the process we neglected our own. The guide you are reading here is an example of us creating our historical stamp online, and we encourage you to do the same.
https://en.wikipedia.org/wiki/Global_Internet_usage#Internet_users
https://zephoria.com/top-15-valuable-facebook-statistics/
What will we cover in this guide?
How to choose and register a domain name
Set up web hosting
Using a pre-existing website template to save hours of work
Customise the templates to fit your company's offering
Get a professional brand and look for our property company
Writing compelling and influential marketing copy
Taking our site live
Setting up live chat and email follow up
Getting people to the site
What is the value of a sustainable lead generation machine for your property business?
Well ultimately it means increased revenue. But where that revenue comes from depends on what type of property business you run. Here are the typical types of leads a property business can expect:
Direct to vendor wanting to move quickly on their sale (or negotiate terms)
Sourcing clients enquiring about your deals
Students who wants to learn from your education company
Client for your mortgage brokerage, finance institution, construction company, solicitor, architect practice, accountancy (any service provider that has a link to property)
(Angel) Investor wanting to lend money to your business
Landlord who wants professional pictures taken
Investors who want their property stage
Tenants for your tenant property
People who need help selling their house
The point here is, property has niches and within each niche there is a different type of lead. Each lead once converting into a sale will produce revenue for your business.
Which leads to the bigger question, how much can you make per lead? Or wha is the value of this lead to your business? Once we work out the answer to this. We can then understand implementing a marketing model/system to ensure this becomes sustainable. Therefore allowing us to semi-automate lead generation.
The other important question is. How many leads which convert to sales do I need to liquidation my marketing costs (including setting up websites, landing pages, boost budgets and other technical jargon which we are avoiding in this guide).
Some examples to get you thinking (all numbers are per transaction):
Sourcing a BTL property – £2,000
A client completing a mortgage application with you – £500
A client getting a structural survey – £350
Annual accountancy fee – £1,500
These examples also have a 'life-time value', what do we mean by that? If a sourcing client buys one house of you every year. This cost you no additional marketing budget. So every year that lead was actually cheaper to acquire.
Then there are examples which are hard to quantify:
An angel lending you finance for a deal, once returned that property cash flows monthly
A direct to vendor deal that ends up being a portfolio purchase or a development opportunity
A tenant who remains in your property from the day you bought it, to date
So the message here is, don't be afraid of spending on the mechanics of marketing and advertising required to market. Caveat – ensure you know what will be liquidating that cost in the future. Something like a below market value property can liquidate for many years to come.
How much does it cost to achieve these results?
This really depends on how you want to get your business online and your level of technical comfort. 
With that in mind, let's go through low, high ,and happy medium cost methods that you could implement.
Low entry point
If you are happy to build your own site (we recommend using a tool called WordPress) we'll be providing full supplementary guides on this method – Coming Soon!
Want to be told when this guide is available then leave your email in the side bar! 
WordPress requires a lot more work but helps keeps costs down – the classic time for money exchange! 
Startup costs using wordpress will come in around £500, and £100/year or so for keeping your site online. This isn't including additional costs like email marketing automation which ranges from £10-150/month. 
The real cost here though is time, especially if you aren't comfortable with web technologies like WordPress. If you are comfortable in this world, then you probably aren't reading this guide!
As a property entrepreneur you know the value of leverage. Your time is valuable and better spent on high ROI tasks that only you can do (finding deals, building relationships, raising money, learning new strategies, mastering current strategies). If building websites and digital marketing are not in your wheelhouse then I would avoid this route for your property business. 
By all means learn these skills (in fact we run trainings on them so we're even shooting ourselves in the foot by discouraging you!) but not just for your property business. Focus on the property business first!
High entry point
You can also pay someone to build and run your site. Costs here will likely be £2000-3000 set up, twice this if you want one site aimed at vendors and another aimed at investors. 
Maintenance and ongoing hosting (without changes) will be another £200-300/year. 
This is the normal route for most property entrepreneurs. It's a perfectly good route to getting a website online. 
The problem with it is that often web designers are not property experts. They don't know what marketing you actually need for your target audience. They will most likely produce a very pretty page, but will not focus on optimizing driving the right traffic to it. We are interested in are vendor BMV properties and angel financing. Ultimately results are what matters. 
There are of course property industry specific designers but they KNOW the value of a lead to a property entrepreneur and as such (wisely!) charge a lot for their services. (B Street Digital included ;))
The Happy Medium
The happy medium is using a tool which costs 'something' a month but save you lots of time needing to develop additional skills (like learning wordpress – which to be fair is an entire professional in itself; people who build wordpress sites are often referred to as web developers), or save you from paying thousands of pounds to a web developer one-off and having no money left to build a traffic funnel (generating traffic to your site is also dealt with in this guide).
Final discussion points before you get started with this comprehensive guide
You will now begin to understand having an online presence requires an investment (low, medium or high depending at what stage you are and marketing budget available) because the rewards that come from it are so high. If there was zero investment then everyone would be doing it and the rewards would fall to zero.
Whether you are new to investing or experienced there will be something in this guide to add value to your business. You may even have a website, an online presence or be generating leads online. If this is you, then you will find the branding and sales copy elements very useful in enhancing any current campaigns you have running.
The first concepts we'll be covering are general property business marketing concepts. These remain applicable whether you are building an online presence or just speaking to people face to face. We'll be talking about identifying markets, working out our customer/client needs, talking to our market about their requirements not simply about what we do.
We'll become problem solvers rather than a pest by orientating our business to help others first. With a more service oriented business outlook – giving before taking –  we can revolutionise how we work. We'll find people coming to us rather than us having to go to them. It's a nice change!
Once we've got these basics locked down we'll be enshrining this new focus in your messaging; most specifically your sales copy. Have you thought about how you describe what you do effectively? Are you using the correct persuasive language for the specific sort of person you are talking to? Are you appealing to both your analytical and the feelings-based audiences?
Most of the time the answer to these questions is no. We'll be running you through the process of refining your messaging. We'll be specifically focusing on producing sales copy for your eventual website but the work is applicable as a vocal script as well as for posters/leaflets and other physical media.
After this we'll pivot to your brand. Yes, this includes the basics like your colour palette and logo. We'll cover these basics, giving you the tools to create your own or low cost outsourcing routes. But beyond that we'll be looking at the power of personal brands – people do business with people, not companies.
Once again this work is to get your prepared for going online, simply copy/pasting the work you've done on your design and branding into the online space. But equally it can be applied to business cards, physical prospectuses, stationary and more. We'll even be providing templates for private financing documents, prospectuses and more to help you come over not only as a professional but also as a sort of people that angels and vendors want to do business with.
It's only after we've got this core work down that we'll go ahead and build out the online platform for your business.
This is VERY different to working with a designer who will just rush into getting your site online ASAP. Instead we need to work through these foundational aspects of marketing, messaging and brand before charging ahead and solidifying it online. Measure twice, cut once.
This also means that when you do get to work putting the site together (if you are using Clickfunnels) you'll be able to maximise your 2 week  free trial of the software. Getting you to sign up now would be in our favour but we're asking you to hold off for now to best be able to use the free trial and give the tool a fair shake.  
At this point (going online for the first time) we'll also provide links and resources for those people who want to go down the WordPress route and build their site from scratch. Great for the more technically minded who have extra time to learn WordPress. For those of you who aren't interested in getting technical you don't need to worry about this option!
Affiliate note: We believe in transparency. If you do use any of the tools we'll be recommending using the links on this page we do receive a commission at no additional cost to you. In fact with some tools you'll actually get discounts or longer trial periods when using our links. We could get these commissions by referring any tools (as most company's run affiliate schemes) but we only recommend products and services we actually use and believe will add value to your business. Some of the best commission rates actually come from companies with poor customer service scores – Godaddy is a great example of a very generous affiliate programme with reportedly poor customer support and as such you won't be seeing us recommend it here!
Parts of this guide will be incomplete. We had to make the difficult creator decision of going live with 90% of the work completed, or delay for another 4-5 months for the final 10%. Knowing the high value to your business in the 90%, encouraged us to avoid perfection. The guide will be periodically updated with the latest tools and techniques. To get these update notifications please sign up for our mailing list on this page.
---
How will we support you during this guide?
In addition to creating this guide for property entrepreneurs (which we will periodically update) we have here the different support options to help implement what you are learning as quickly as possible.
The support options available to you now, are varied depending on your starting position, budget, time capacity and experience. 
These choices are not to take away from the guide, but instead to save you time and point you in the right direction.
IMPORTANT NOTE: These choices are not to overwhelm you. However to support you at whatever you stage you at and to suit every budget. The primary goal should be to work through the guide. Then come back and select a support option that best fits your need. If unsure. Just talk to the team on the chat app in the corner. 
Support options:
FREE GUIDE: The comprehensive guide you are reading now, which will help you get your property business online quickly with little technical knowledge required.
Ideal for: You have a small budget available monthly, and the tool we show you has a low monthly price and requires very little technical knowledge. You have time to work through the guide and do the work yourself.
Not ideal for: If you are limited on time and cannot work through this guide consistently. It does have a learning curve and requires you to complete some tasks in order to get your property business marketed online.
Scroll down to continue with the comprehensive guide.
HAPPY MEDIUM – INTERESTED IN LEARNING: A 12 week programme designed to help new and experienced property investors market their business online using tools that work today.
Ideal for: People who want to take control of your online marketing and build your brands presence online. If you want to ensure your property business is using the best online marketing strategies that work today. Get us to guide you through the process and answer any questions along the way. Property investors, sourcing agents, public speakers, mentors and coaches are all suitable for this programme.
Not idea for: People who are experienced in digital marketing. Do not have a property business. Have a property marketing model that already generates them leads (it works, don't reinvent it).
Get the competitive advantage and learn more about the 12 week programme here >>
DONE FOR YOU SERVICE: The work in this guide is done for you. From start to finish.
Ideal for: If you know exactly what your property business is. Someone who is busy building the property business and knows they need to take it online to expand lead generation and brand awareness. You have a budget towards investing in your property brand and online marketing strategy.
Not idea for: A business that does not yet have the budget (Use the free guide below instead). Or you are not sure how to define your property business.
Learn more about the done for you service here >>

Feel free to refer back to this section or talk to the team in the chat app. Not sure what is right for you? Again, talk to the team via the chat app.
On that note, enjoy this comprehensive guide which will walk you through getting your property business online and generating leads.
Step 1. How do we market our property business online?
In this step we'll be looking at what we are actually selling, who we are selling it to, and how we're going to sell it. These super basic marketing questions seem overly simplistic but as you'll see it's easy to trip up. 
First a question. When you meet an angel investor for the first time what are you selling them?
Share in a property?
A deal? 
Return on investment? 
What about when you meet a vendor? What's the sale? 
Cash?
Speed?
A solution to a financial problem?
No. When we have these discussions we are initially selling trust. 
Angel investors first need to trust that we aren't going to run off with their cash, that we know what we are doing and have experience, and that we are worth betting on over any other property entrepreneur. 
Vendors are entrusting you with potentially the largest financial decision of their lifetime. They need to trust you'll be true to your word, won't screw them on the details of the deal, and will treat them fairly and with respect.
After we've sold this trust, then yes absolutely we are selling the aspects we talked about above. We are selling ROI to investors and quick cash to BMV vendors. But we can't even begin these discussions until we've sold them on the fact that we as people are trustworthy. 
We'll be looking at how we do this later with some very specific exercises.
First though, let's nail down who you are actually selling to. The two main examples have already been mentioned. Most property entrepreneurs are interested in securing funding and deals. These are the two prerequisites for most property ventures – the project itself and the finances to complete the project. 
If you are in the process of buying land or property, adding value and either selling or holding then you'll most likely need to market to vendors and angels. 
If you are in other areas of property then you may need to take a moment now to confirm who exactly your customer is. Generally your customer will be the person paying you – that's the easiest way to be certain! But you may spend your day to day working with people who aren't directly writing the cheques. 
For example, if you run a lettings agency your main customers are the landlords but the bulk of your work will be spent with tenants. So do you want to be marketing to landlords or tenants? Or both? Just be aware of who your actual market is when going through this guide. We'll be using angel financing and vendor deals as the main examples throughout. 
If you aren't sure who you actually need to market to, we'd recommend taking some time to draw out a flowchart of stakeholders for your business. Put all of the involved parties down on paper and draw arrows to show the flow of money. 
This generally will clear up the picture of how the stakeholders relate to each other, who is supplying whom and what demands you need to fulfil in your role. If you are still having difficulties, simply come and ask in our Facebook Group and we'll work through it together! 
Now we know who we are marketing to (vendors and angels) and what we are marketing (trust) let's dive into the nitty gritty of how we do this. 
Whilst this course is focused on building your property business online, the basic concepts we'll be discussing here are universal. Feel free to replace "website" with "flyer" or "video" with "face to face chat" or any other real world parallel. 
We use our marketing to build up trust in what it is we do. Specifically we want to :
Be human beings
Show our face
Solve the customer's problems
Show a track record
Show examples
Provide references
Make action easy and immediate – the faster the access to direct communications, the better
Let's cover these topics, moving from broad to narrow. 
How does all of this relate to our online presence? Here's the key point – if all we are using our online presence for is to build trust with vendors and/or angels, we can refine how we do this over time.
Most importantly, we do not need a WEBSITE. 
Sorry, what? 
That's right, you don't need a website. 
Have a look at this example:
https://drive.google.com/file/d/1kPvUmy-J803r2D_RCgxfs5jo9x_-PVeC/view?usp=sharing
This first example spreads trust building content across multiple pages. It puts the onus on the visitor to go and seek reasons to trust you. All the information is there but we're making it hard for the visitor to piece everything together. 
If they do have the patience to work through the material and think "hmm, these guys seem legit, I'd like to learn more" then they then still need to go to the Contact Us page, fill in an impersonal form or email submission and wait for a response. If they get that far of course. 
It's even worse than that though. People are generally impatient online but even more so on mobile devices, especially when the website is not well designed for mobile. 
Does this matter? Very much – the majority of internet traffic is now on mobile devices, not desktop computers, and this is becoming increasingly so every single year. This makes the old school design of a website even less viable. Having to use navigation bars and top menus (which either hide at the top of the screen or sometimes obnoxiously float down the phone screen, covering content) to get around a site can put off even the most patient visitor when using their mobile device. 
To further compound the issue we have one website for two audiences – some people who want to invest money, others who are looking to sell their house. Do these people need the same trust building content? Should they have to filter out the information relevant to the other group? No, again we are making it too complicated for our visitors. 
Focus on the structure for now, not the content. We'll get to the content shortly. 
What's the difference between these two examples? And what's that nonsense about not needing a website? 
The first example is a website. The second example is a webpage, more specifically what we call a landing page or a sales page. 
A website is a group of lots of webpages, linked together by navigation bars, menus and internal links. Wikipedia is a webpage. It has linkages between its many millions of pages. The visitor can explore with or without purpose. Most webpages are set up to favour the latter – the more time you spend wandering aimlessly on Facebook or BBC News the better for the website owner. Great for browsing, bad for action. 
The second example we showed is a landing page. One page, one message, a consistent flow from one point to another all culminating in a Call to Action (CTA). You can move down through the messaging and either act or leave the page. That's it. We can make taking action even easier using Live Chat applications rather than telephone and email. 
This type of webpage is also much more "mobile friendly". We don't use a complicated system of nested menus or sidebars but instead have a single page that we can continuously scroll down. Scrolling down a page is an effortless and often hypnotic action on mobile devices. Tapping to uphide menus and then struggling to hit the right undersized menu item is not. 
And what about our second market? What about angel financers? We have another webpage, just like the first but with different trust building content tailored specifically to what they need to hear. We don't mix the messaging and markets all into one webpage, we keep them separate to ease the flow for the visitors. 
In the next steps we'll be specifically building a landing page like Example 2 and NOT a full, confusing and expensive website. 
First we'll prepare the sales copy (the text). Then the design, look and feel, and brand. Finally we'll move into putting it all together to look like Example 2. We'll actually provide you with that template to make the process as easy as plug and play.
Step 2 Our messaging and sales copy
In the last step we talked about our marketing strategy and why we are using a landing page rather than a full website. Now is the time to prepare the text (the sales copy) for this page. If you aren't ready to go online yet this work is equally relevant for a flyer or poster.
From this point forward we are going to be focusing on a page for sourcing vendor deals. These same principals are relevant to angel financing websites but we'll be covering this second market in a later step so as to not confuse the teaching process. Once you've worked on one page the second is much simpler – basically a copy/paste duplication and then switching out the specific content.
The text on this page will be sales copy. The words "sales copy" sometimes make people think of those old fashioned long-form sales letters or late night American infomercials. Whilst these are examples of using sales copy we're going to be a little subtler!
Remember that the sales process here is simply to i) build trust and ii) generate action.
A good starting headline for real estate businesses
We're going to start by framing the sale. Right up front we declare our intention – there's no use hiding the action under the lead and then just losing everyone at the end. Instead we use the HEADLINE to state our intention.
We therefore use a sandwich technique: action, trust, action.
Let's start with that headline. The headline we use on our pages is :
Live in LOCATION or surrounding areas?
Get your cash offer from COMPANY NAME now
Simple right? Let's dig into why we use this.
The best headline will be the one that works. This is one of the biggest advantages of digital marketing – we can test out different variations and see what works best.This is called A/B testing, as in "let's test variant A against variant B and see which is better."
We start from a place of ignorance. And we embrace this ignorance!
If we start with the more humble "I don't know" then we can best learn what works for our audience. What best generates conversion. And therefore what best drives our business forward.
We use A/B testing to try one headline against another, leaving everything else on the page the same. Let's say 1000 people come to the website – we send 500 of them to variant A and 500 of them to variant B. From these live visits we see which version (A or B) caused the most number of people to call us or send an email. Clever huh?
The headline above has been used on live sites and we know it works. However, feel very free to tweak it! Clickfunnels has built in tools for this and it's a good idea to always be testing something. We'll discuss the how later.
They Ask You Answer – Call and Response
 This particular headline uses the Question and Answer format. Call and response. A catechism. This structure has been used for millennia in song and religion for a reason. It works. We pose a question and provide an answer.
In this case the Question is :  Live in LOCATION or surrounding areas?
And the answer is : Get your cash offer from COMPANY NAME now
Go ahead and plug your location and company name now. Write it down.
There are a couple of elements here. The first is specificity. If you location is Bristol and we get someone from Bristol to the website (using targeted content and Facebook boosting) then there's an immediate recognition of this specificity. This is a generic website, instead it is talking to the individual.
The second element is an easy positive response. If they are from Bristol the first response (consciously or subconsciously) to the website is "yes". Seeing this question elicits an immediate yes from the visitor. Notice we aren't asking "Need to sell fast?" or "Want a good price for your property?" Instead we get an initial "yes" from a gimme-question, low hanging fruit. Then we can move ahead to talking about property.
Third, the answer. As mentioned this is a Question/Answer headline. We're actually doing something clever here though. The Answer isn't directly related to the Question being asked.
You – Question: "Do you live in Bristol?"
Them – Answer: "Yes"
You – Question "Great, contact us about getting a cash offer on your property"
We use the positive response to the initial innocuous question to lead into the action being requested (contacting us).
This works again because the traffic we drive to this webpage is i) geolocated to Bristol and surrounds and ii) we know that they may be interested in selling their home.
We know this because we can use tools like Facebook to very precisely target who sees our messaging.  We cover traffic towards the end of the course and also run a 12 week workshop on becoming visible online: https://bstreetdigital.com/building-businesses-online-property-workshop/ (PS. this 12 week workshop is free if we build your site. More later.)
Finally, after the headline we immediately provide a method of contact. We do not hide our contact methods away on a Contact Page. Instead we have the primary form of contact directly under the headline : a form to begin the free quote process.
We repeat the call to action at the bottom of the page, after the trust building content that we will now be getting into. Remember the sandwich: action pre-framing, trust building and back to call to action. Let's delve into the sandwich filling.
Moving into the body of the sales copy
Trust building. We use as many sections as we need and no more. We also make sure that all the content is relevant to vendors. If we were building a website we'd need to make sure we are talking to all of our potential visitors or work out how to filter different markets to different parts of our website. Because we are focusing on only vendors for now we can specifically focus on building trust in this market.
We'll walk through the template and discuss the rationale behind the text we have chosen. Using the learnings from this guide you can then adjust as required.
Talk about the benefits for the property vendor
First we highlight 3 key benefits. Two points worth highlighting here – we are talking about benefits not features and the fact that 3 is sufficient.
Too many companies focus on the features of their products rather than the benefits. What does this mean. Features are information about the product/service itself. Benefits are what these features actually do for the user.
The famous (and perhaps overused example!) is the iPod. MP3 players were around before Steve Jobs introduced the iPod.
Microsoft and Creative Labs had MP3 players on the market. They talked about their products in terms of how many gigabytes of memory they had, what kHz the sound quality was at and the bitrate of the audio stream. For sure, tech geeks could understand this language and rejoice when a higher capacity HDD was released. For the rest of the world though it was gobbledegook.
Then Apple did this: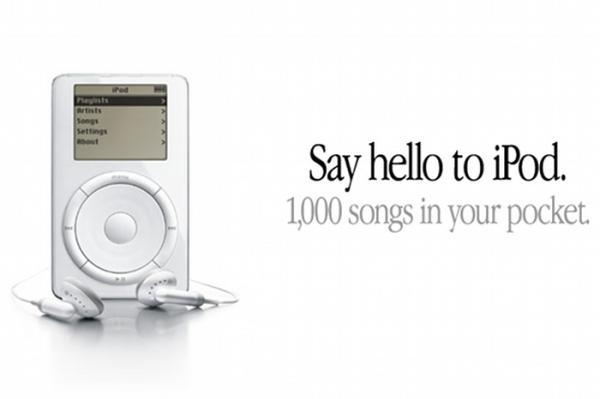 And that was basically that for the rest of the market.
Talking about technical features requires knowledge of the product and rational consideration whether the product being offered is a good deal or not.
Talking about benefits is emotional not rational. It causes people to think about how their life could be better because of this product or service. This is the lever we want to pull.
Three is the Magic Number
The three benefits we've built into the template are 
Cash Offers
 Any Condition
 Fast Turnaround
We've found that these three work well and talk to the required audience. On the worksheet we've prepared to help you write up your sales copy we've added a lot more for you to look at. You can find that worksheet here: Real Estate Sales Copy Worksheet.
Why do we ask you for your top three benefits of working with you? Adding a huge list devalues any individual benefit – it becomes noise. Three is also the smallest number required to make a pattern. The rule of three has appears all over the place. Here is a great article on its particular uses in copywriting and sales: https://rule-of-three.co.uk/what-is-the-rule-of-three-copywriting/
After hitting the core benefits we talk the visitor through the Process they'll be taken through. The main key here is that we only present the parts of the process that they are personally involved in. We do this for two reasons.
First, we want the bare minimum amount of information to build trust and make our point. Any more is noise and a distraction.
Second, the part of the process after their involvement is how we go on to sell their property at (hopefully!) a profit. If we include this we are at best showing them what they could do with their property without us and at worse straight up insulting them by showing how much we can profit!
Therefore we focus solely on the parts of the process they need to know about – contacting us, receiving an offer, completing the sale.
We explain the process in two sections on the page. The first has a basic 1,2,3 stages. Very simple and self explanatory.
The second is the full-length infographic that shows the process of selling via an estate agent vs. selling to us directly. This is for comparative purposes with the main alternative – estate agents.
We designed and produced this infographic due to some vendors asking why they shouldn't just got through estate agents. Feel free to use it in your webpage – it's part of the template and should be helpful for persuading vendors to go through you. The graphic in the template is a higher resolution.
In both these Process sections notice we use HOUSE instead of HOME. If you do edit the copy we'd recommend you follow the same distinction.
When someone is selling their "house" it is a financial transaction. When they sell their "home" suddenly it becomes an emotional transaction. So for the purpose of the sales copy it's best to use "house" – the physical asset and not the emotional location.
There is one exception here. If you are in the business of purchasing property and also helping get the vendor set up somewhere nicer then we can use "home". We buy their "house" and help them to find a "home". Only slightly different words but with massively different meaning.  
About Us
Between the two Process sections we've found that an About Me or About Us section works as an effective change of pace. This is the most personal section. The one where you are allowed to talk about yourself rather than focusing on the vendor.
The About Me or About Us section (depending on whether it is you, you and a partner or a team) should have a photo of you – not a generic corporate stock image! –  as well as a small amount of blurb.
The key here, which may cause disagreement, is that you should use your personal image and story. We'll cover this more in the next section on brand and design where we'll be heavily suggesting that you focus on personal brand rather than a corporate brand (for good reason) so if you are uncertain right now we'll be making those arguments shortly.
This blurb is where you can exercise the most personality in this template. It is after all the personal information section!
We suggest:
Providing and proving any local ties – "born and bred"
Mentioning how long you've been working in the area – "helping local homeowners sell for 7 years"
A personal call to action – "call me", "email me".
This section should not be long. Three short paragraphs is optimal. You can go into more detail when you are in touch with them, although even then you should be mindful to focus on their problems, not your solutions.
But, what about…?
Want to learn through live lessons?
Join our popular Building Businesses Online Property Workshop!
Finally, any good sale should deal with objections. People are skeptical. With a financial decision as large as selling their house they should be! We use a FAQ (Frequently Asked Questions) to deal upfront with a number of these objections.
There is an argument to be made that bringing up these objections upfront will make people more skeptical. Maybe they would not have thought of these issues until we mentioned them. This is in part why FAQ sections are placed at the bottom of a page – it's for the type of analytical reader who will check every nook and cranny. Those who are already content to contact you will already have done so.
This is true. But it's better for us to bring them up and provide a response now rather than wait until near the end of the deal for the objection to surface and for everything to be torpedoed.
We've provided a handful of common objections directly in the template. We add more to the template over time as we get them from real vendors. We suggest you add any additional objections (and your response) to your version of the webpage over time, tailoring your FAQ section to local conditions.
Now it's time to put this all into action. We've prepared a worksheet for you to fill in
The worksheet is here: Real Estate Sales Copy Worksheet
That worksheet combined with this guide will help you to personalise the template's sales copy to match your particular business. If you want to add additional sections by all means do so. We'll cover how to add those to the page template later.
Even if adding new copy and sections you'll at least be adding them to an already efficient template. This makes the whole process far simpler for you than if you were simply starting from scratch.
Step 3 :  Design and branding
Optional: logo
Optional: canva image
Optional: video
Photo
Logo
Colours
The template we are starting with gives us the basic design of the site: the look and feel.
We could leave it as is, maybe removing some of the placeholder elements (like the space for the logo) and launch. It'll get the job done as is but it isn't very unique.
Instead let's take a little time to think about the design of the site. This requires us to take a quite detour to look at your brand.
First off, two quick notes. Calling it your "brand" makes the whole thing sound very fancy. Don't worry, we're going to keep it light. Even if you don't think you have or need a brand you do have a customer facing company persona – a way of presenting yourself. That's all we mean by brand here.
Second, don't worry if you don't have an artistic bone in your body. We are going to make some graphic assets but we're going to use tools that do all the heavy lifting for us.
By the end of this step we'll have a handful of assets for our webpage. Namely:
A brand identity
A company name (if you don't have one!)
A logo
Colours
A suitable photo
Brand Identity
Let's start with your brand identity. Again, this is a high falutin' term for a simple concept. We simply want to define the look and feel of your company. What do people think when they think of you and your work? If they had to encapsulate what the feel about you in a single word what would that be?
Throughout this course we've been repeatedly saying that the first thing you need to sell is "trust". We recommend that you focus on trust as the core of your brand.
This comes in a number of ways. You want clients to be saying:
They know what they are doing
They do what they say
They're the go-to in the area
Oh, you need to talk to these guys
These guys know what they are talking about
Knowledge, authority, expertise, reliability. These are values that, if encapsulated properly in your brand (and your practice), will persuade new clients and customers to contact you.
The best single way to build this sort of trust quickly is by focusing on your personal brand.
You're company is likely a "small" company – ie. less than 50 employees. It may be you. It may be you and a partner or a handful of partners. You aren't a giant like Foxtons in the U.K. (or ReMAX, in the U.S.).
This is an advantage not a disadvantage if you embrace the personal brand.
People do business with people, not with companies. If I am selling my house via Foxtons I'm actually selling it via Jamie at Foxtons. It's Jamie who has persuaded me to go with their outfit, which is ultimately why Jamie also gets his commission. Even a big company like Foxtons knows that it's the individual who gets the business done.
When dealing with large sales or investment you need to be able to trust the individual or team of people you are talking to. Getting to know the person you are dealing with is the quickest route to this trust – familiarity breeds trust.
Giant companies have giant marketing and advertising budgets. They will always be able to outspend smaller companies here. So don't compete in the same arena. Their disadvantage is that they are big faceless companies and it's harder for them to get the level of trust you can achieve.
Remember this guy? If you are based in the UK the answer is likely yes.
If so you also very likely remember what bank he was the face of. This is a great example of putting a human face to a faceless bank.
Your disadvantage against large company competition is budget – it's impossible to outspend them in terms of advertising.
Your advantage against large company competition is your personal brand – you don't need to outspend larger competition by simply playing a different game.
We see a lot of property companies setting up with generic impersonal branding. It's understandable – they are replicating the large companies to look "professional". It's an understandable impulse. But it then pits them against these larger companies who will win in that space.
Instead, lean into the fact you are small, nimble and personal. People love actually talking to the person they've seen on a website rather than an anonymous call centre. What novelty!
With all of this in mind we strongly recommend that you focus on personal branding rather than impersonal "professional" branding. We'll be focusing on the personal throughout the rest of this step.
Company Name
This may not be relevant to everyone here because you may have chosen a name already. If you have we recommend you still use the tool described below to check social media availability. If you don't have a name yet then there are some tips here. Because this is a complex topic though we recommend you drop into our Facebook Group to discuss. We don't want to get too hung up on naming in this guide.
For online purposes we recommend having i) the location you operate in and ii) the service you offer in the name itself. This makes you so much more visible online. A basic "it says what does on the tin" name is always the best for online because of the way that people search for content.
If I want to sell my house in Lincoln fast I'll type "sell house fast Lincoln". If sellhousefastlincoln.com is a website then it's very likely to pop up first. The website name is just one of many factors determining what Google shows but it is a very important one.
We can use a tool called Namecheckr  (https://namecheckr.com) to simultaneously check the availability of a website name and all the various social media accounts associated with the name. Ideally we want all of these to match – having mismatching accounts can be very confusing for people trying to find us.
Not using social media? Not a problem – it's still a good idea to grab them anyway in case you want to add them into your marketing plan. We run a course on how to use social media to generate property business leads which may be of use once you have your webpages up and running. Having those social network usernames snagged is great for peace of mind just in case you do want to use them later.
A lot of the time your online business name will be determined by what is available.  Use namecheckr to test availability of names with your location and service. Make sure the .com is available. The other .co.uk, .net, .co etc. are not as visible online and people will by default go to the .com which may be your competitor!
Also, remember that your webpage and social media name does not need to be your legally registered company name! You can have webuyhousesLincoln.com as your webpage but then your legal company name can be something completely unrelated like Bob Smith Houses Ltd.
Living Colour
We need to choose a handful of colours to represent our business. Technically we need one colour only. The rest of the webpage is designed using black and white so as to work with any colour. However, we may want to have additional colours picked out for us in stationary, flyers, prospectus packages and so on.
Again, there are useful tools to help us choose a colour scheme.
https://coolors.co/ is the one we recommend. It's totally free.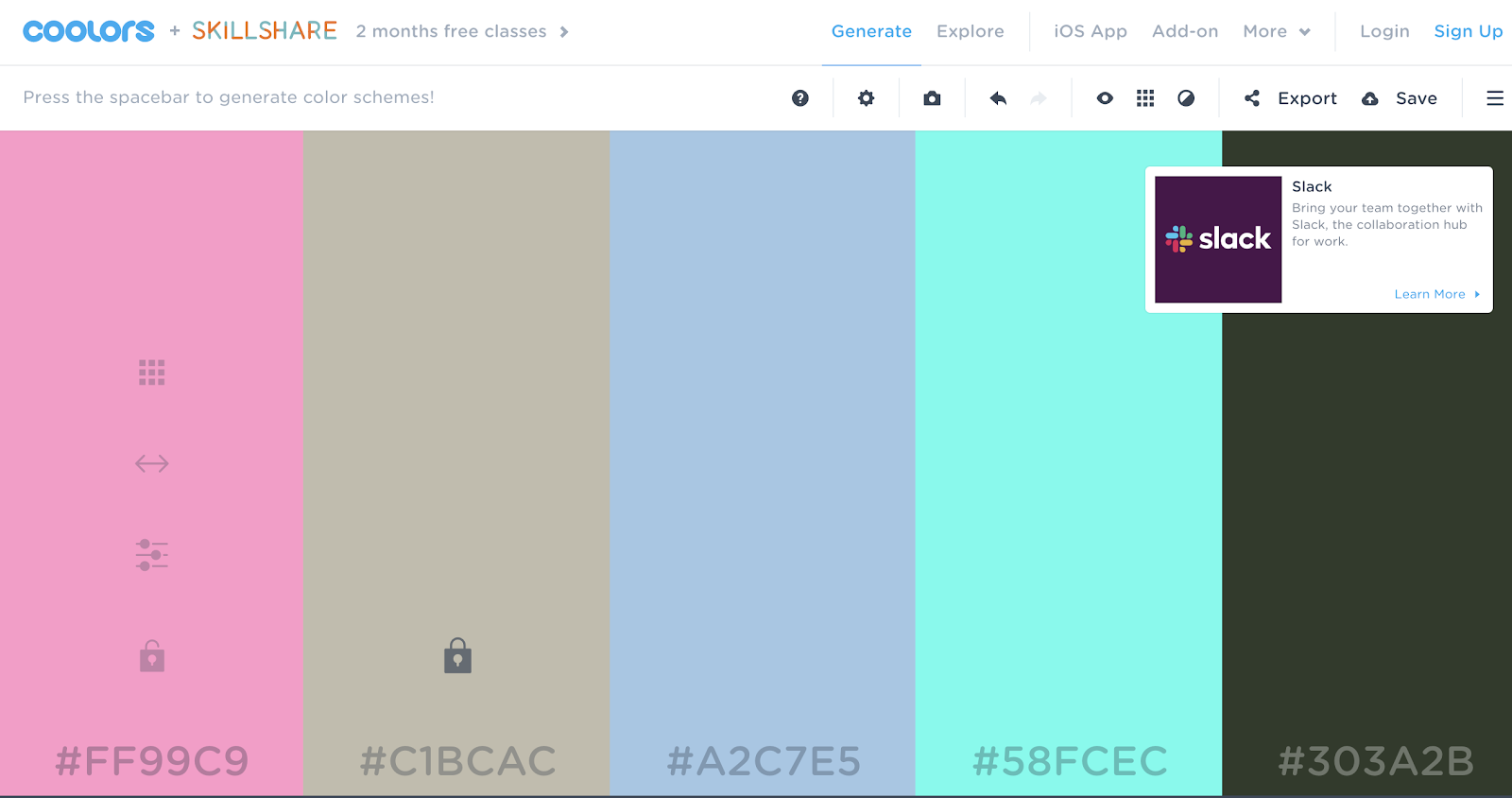 The basic idea is that we choose one colour and then Coolors.co will build a palette around this one colour.
Head over to coolors.co on a desktop PC/Mac. You can use a mobile if you want but it'll be a lot easier on a desktop.
Start by simply tapping the Space bar. This will randomise the colours. Do this until you find a colour that you like. Click the Padlock icon on that colour. That will lock down that particular colour. Now when you press space bar again that one colour will stay and the others will adjust.
The adjusts will always be made according to certain colour design principals so that the colours "work" together well. Pretty neat!
If you have a specific colour you want to start with you can also do this and design the palette from this starting point. To do this though you will need the hex code. A hex code is specific combination of numbers and letters that give us a shade of a colour. Black is #000000 and white is #ffffff. Manchester United's red is #DA291C, FedEx's purple is #652C8F and EasyJet's orange is #ff6600
If you have a specific colour you want to use you'll need to know this code to start off. Thankfully coolors.co has a Upload Photo feature. Upload a photo of your colour and the tool will help you identify the hex code. Lock this colour and then start the process of setting the rest of the colours in the palette.
Once you have a handful of colours you like export the palette or just keep a note of the hex codes of your chosen colours. You'll need these later.
Logo
Let's go ahead and make our first asset. A couple of options here. If you are a whizz with Adobe Illustrator or a similar graphics package then … well, you probably don't need any help here! Let's assume you are not though – there are still options.
You could hire a designer. There's no need to spend a lot here – upwork.com and fiverr.com can be used to get a logo for as cheap as $5. Expect to spend around $20+ for something decent though. If you want to invest a little more check out http://99designs.com/ which allows you to set up a competition for your work. 10s or 100s of designers will submit their work for your consideration. In each round you select those you like and the define gets refined round by round. This is a cost effective way to get an extremely high quality design suited to your needs.
Finally the method we'll be using today which is free – Canva.com. You may already know canva.com. It's a wonderful tool where you can use their professional templates and a little drag and drop for any design work you may have. A lot of people don't know though that canva.com also has a logo creator, specifically at https://www.canva.com/create/logos
Head over to that page (make a free account if you don't have one) and then scroll down until you find a basic design you like.
There is not a property specific category but there is a category for home furnishing / interio design which is fairly similar in style.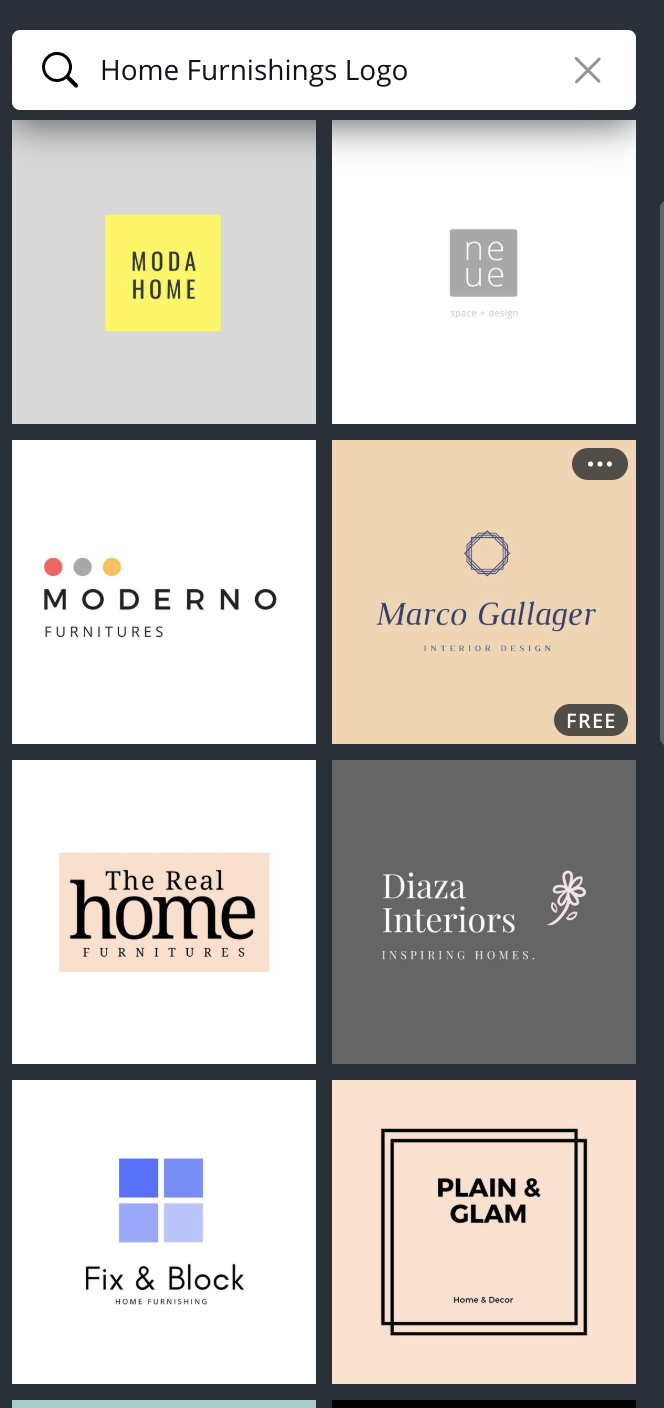 From the hundreds of templates on Canva go ahead and choose something you like the look of. Don't worry about the words. Don't worry about the colours. Don't worry about any icons. These can be adjusted.
Let's use this template as an example: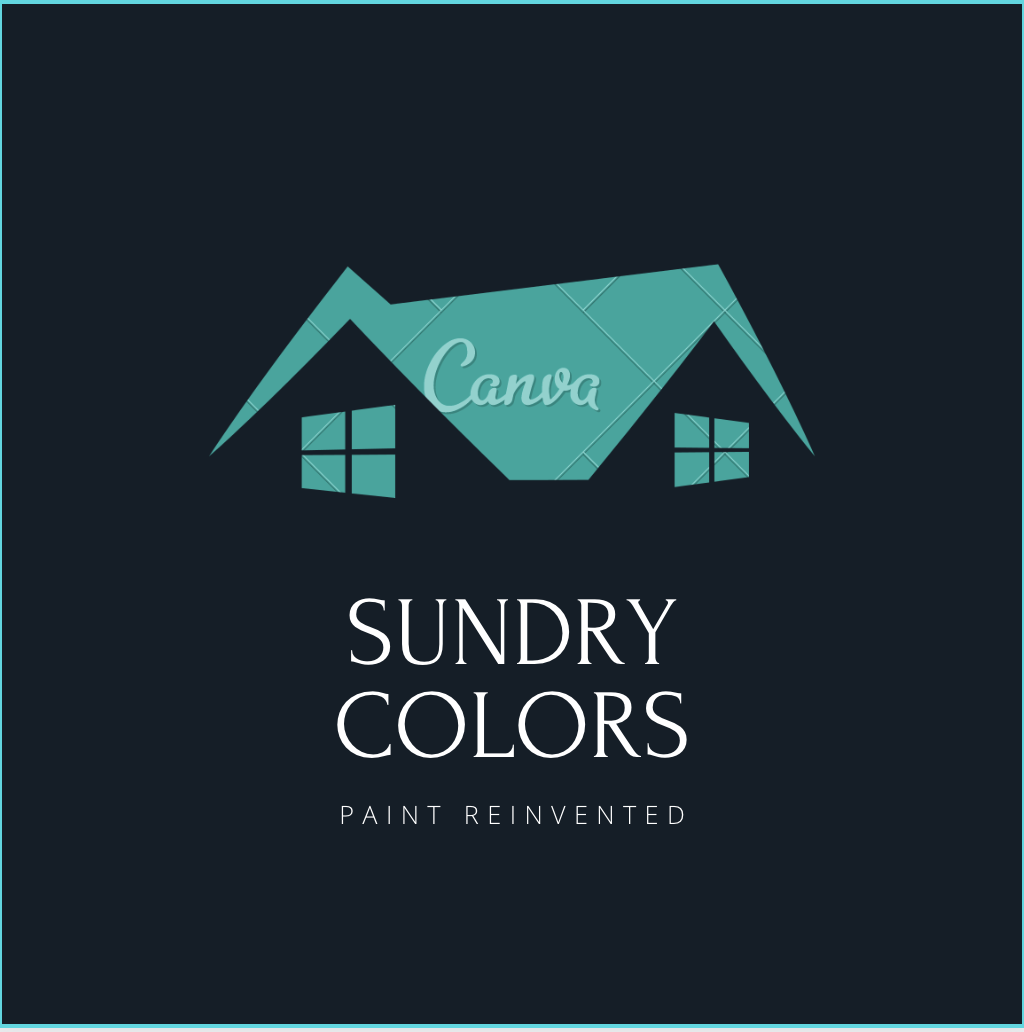 Once you've chosen a template go ahead and click on the text and change it. Editing is as simply as selecting the text and typing in new text, much like you would in Microsoft Word or when writing an email. Put your company name in and see how it looks.
You can adjust the position of the text by dragging it around the page as well as changing fonts, font size and font colour. In general, the designs are very good so you may want to leave the sizing and styling alone and just change the words themselves.
For the colours we need to think about how this is being used. Most of the time having a white background is going to be the most flexible for you. For example if your logo is being printed on business cards most of the times the card stock will be white. We've also designed the webpage template with a white background which means we are going to have to adjust the palette here.
Let's change the background to white. We click anywhere on the dark background. In the top left of the screen is a square of colour which is the current background colour – click here to set a new colour. We set the new background colour to white and…oh no!:
Because the text was white it just disappears.
Use the Undo button in the top left of canva (or press Command+Z on Mac, Cntrl+Z on PC) to revert to the previous logo. Let's now change the colour of the text itself.
Select the text and find the Text Colour option in the menu bar. Switch the text colour to black or a similar dark colour. Now change the background colour to White.
Much better. We can now read the text properly and we have a logo that has a white background – much better for use on paper and the webpage.
When you are happy with the basic design click download in the top right of the screen and download as PNG. Congratulations on your new logo. This will remove the Canva watermark. If the icon being used is one of Canva's premium icons there will be a charge but it's $0.99. Also Canva has thousands of non-premium icons and images to choose from if you really don't want to pay.
We'll be using your new logo at the top of our webpage but also keep hold of it for stationary, social media profiles, business cards etc.
Speaking of business cards we recommend moo.com.

Mainly because their designs are lurvely.

Armed with your logo and colour scheme you'll be able to get some very professional work done at moo.com
Your Photo
Prefer to have everything in this guide taken care of for you?
Enquire about our done for you service.
Finally we need a good photo of you, whether it is you as an individual or with your team. Having an image of you is necessary if focusing on personal branding. When a client or customer gets in touch they'll want to know who they are speaking to – having a visual cue is crucial for building rapport.
How to get a good photo? First, don't take it yourself – we want to build trust here and a selfie won't cut it. Sorry! Ask around friends and family and chances are someone will be into photography or know someone who is.
 If not you can easily find a professional photographer using a service like bark.com (https://www.bark.com/en/gb/headshot-photographers/ for the UK ) Having a good quality headshot is a powerful asset that you can use again and again for at least a decade. From your webpage to your LinkedIn profile photo to any professional speaking or teaching gigs you do having a solid headshot is a small investment to make.
This is one part that it's not worth skimping on so check out bark.com and see what the going rates are in your area. The process is also not as awful as it sounds and this is coming from someone (Kyle) who avoids cameras like the plague!
Once you have your colours, logo and photo you're good to go. Combined with the copywriting we worked on in the last step we have all the components required to build out site quickly. In the next step we'll get set up and building.
---
Step 4 :  Setting up the page
The time is finally here to reap the rewards of all your hard work over the last few weeks!
This step is going to be jam packed – by the end we'll have a functioning website. Why so fast? Well, again we'll be using the free trial offered by Clickfunnels and I want to make sure you get as much use from that trial as possible. Because the trial period includes the time putting the site together the faster we do this the more time the site will be live for free.
To do this we've spent the last few weeks getting your copy written and graphic assets prepared. Now we'll plug everything in and go live. Because the main work is done this will be rapid.
First up let's get you set up with the template files.
Everything has been prepared and packaged at this page.
If you are already a Clickfunnels user then the templates will be added directly to your account.
If you are not a user yet you can sign up for a free 14 day trial on that page. That will then ensure you have the templates ready in your account.
A word on terminology. A funnel is just a collection of your webpages. Funnel comes from the term "sales funnel". The templated pages we've provided are in a funnel called We Buy Houses.
That is a cloned version of the sales funnel with both webpages. Once you are logged in you can access the templates here Under Click Funnels > Funnels.

Find "We Buy Houses" in the list of your funnels. It'll be the only one if you've just set up an account. Go ahead and select We Buy Houses to access the funnel's dashboard.
Familiarising yourself with Clickfunnels
The Dashboard looks like this. Let's familiarise ourselves quickly.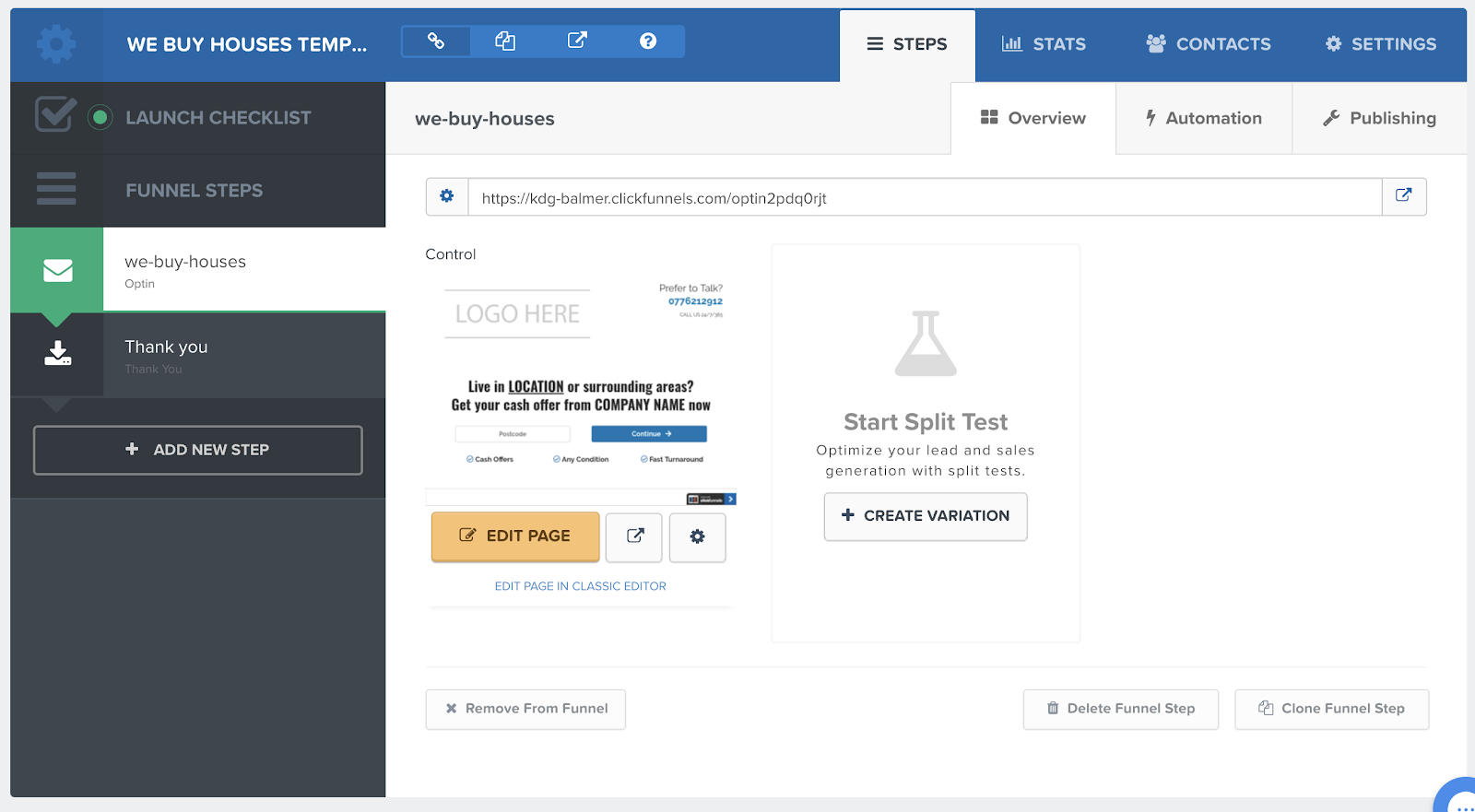 On the left we have our Funnel Steps: we-buy-houses and Thank you.
The first is the sales page. The second is a thank you page that the visitor goes to after submitting their information.
At the top of the page we have Steps, Stats, Contacts and Settings.
Steps brings us to the page in the image above – where we can see the Funnel Steps. It's the main page in the dashboard.
Stats gives us access to basic analytics. How many people are coming to the site. How many are leaving their email addresses. These are the most important stats as they allow us to calculate "conversion rate" – how many people who see our offer act on it. For instance if we get 100 people to the webpage and 10 contact us then we have a conversion rate of 10%. This is important later for refining our page.
Contacts will keep a record of all the people who contact us via the page – their names and email addresses as well as any other information we ask for and they leave. We're going to set up automatic emailing shortly so that we get notified of new leads.
Settings lets us tweak background settings, add in credit card processing add additional analytics and a handful of other options. We won't need to mess around in here much.
Most of our work will be in the Steps tab. Here's that view again: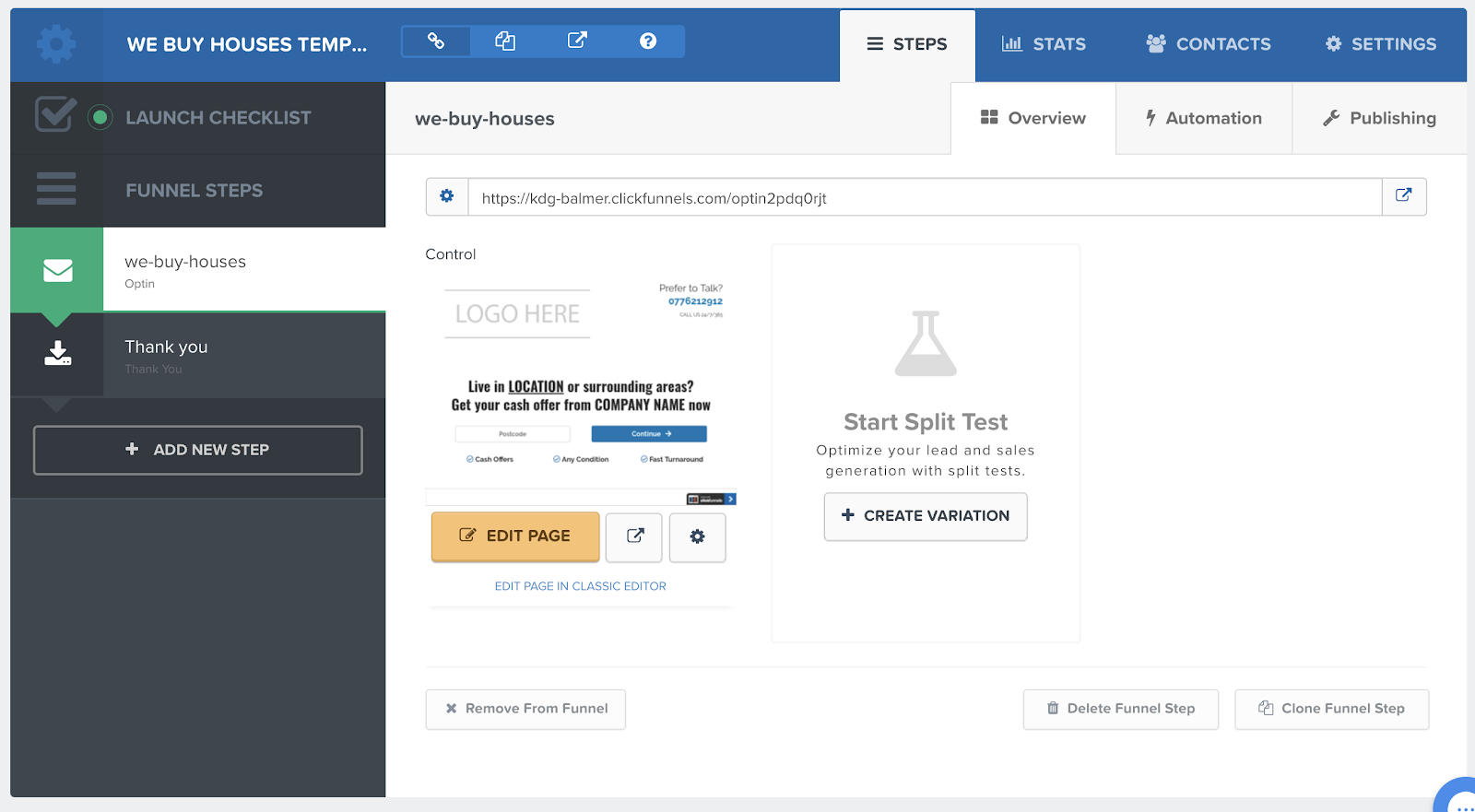 In here we have Overview (pictured) as well as Automation and Publishing.
Automation is where we'll set up notification emails. Publishing is where we'll go before we take the site live. We'll get to both of there in time. Right now though we want to hit that big yellow Edit Page button and customised our landing page. Let's get started.
Clickfunnels Editor
We are now in the main editor window. This is where we'll make changes.
The majority of this page is the template webpage itself. You might notice though that if you mouse over any of the elements on the page strange boxes start popping up. This is how we select parts of the page to edit. We'll get to this shortly.
First the top bar and a general introduction to how your template is constructed.
The most important button here is Save in the top right. If you want to save your changes then, you guessed it!, we use the Save button. If you try to leave the page without hitting save you'll get a pop-up asking if you are sure you want to leave with changes unsaved.
Preview takes out out of the Editor and shows us a "live" version for what the page looks like. Useful for checking changes and how it'll appear for your visitors.
The Top Menu
The next important area is where you'll see
Sections
Rows
Columns
Elements
Sections, rows and columns are used to structure the page.
Elements are used to add content.
Because the page's structure is done for you, you do not need to worry about Sections, Rows and Columns.
You won't need to edit them. However, if it helps to understand the basic idea is taken from newspaper formatting:
The red outlines a Section.
The blue outlines a Row.
The yellow outlines a Column.
This is exactly the same on your webpage and indeed any webpage you see online – there's a hidden system of Sections, Rows and Columns behind everything.
Clickfunnels Elements
What we are more interested in on Clickfunnels though are the Elements.
This is where the meat and potatoes of webpage content lives. Text, images, videos, sign up forms, social media integration etc.
Again we've plugged in the Elements for you in this template so you shouldn't need to add any others. However if you do find yourself wanting to add some more text or photos it would be done here via drag and drop. It's a matter of finding the type of element you want and dragging it from the above menu into the webpage.
We're going to be focusing on editing existing elements so don't worry about the above discussion of Sections, Rows, Columns and Elements if it doesn't make sense yet. Let's get stuck into editing the template!
Go ahead and open up the Google Sheet questionnaire you did to find the copywriting you previously worked on. It was at https://forms.gle/s4VjHdH815F1S7bu8 if you've lost it. You'll be able to access your previous work there.
For the next part it's probably easier to follow along with the video where I'll run through step by step. The video is here:
If you prefer a written step by step though here it is!
Coming Soon : Full Text Instructions for Page Edits. For now please use the video.
Editing the Thank You Page
Now that your main page is looking good let's quickly adjust your thank you page. The best use of the thank you page is actually a thank you video, direct to camera.  We can use the thank you page to give the visitor extra information but we'll look at that in the next step. For now we'll just make sure it tells the visitor that their details have been received and that you'll be in touch.
Navigate back out to the Dashboard and in Funnel Steps select the Thank You page. Hit Edit Page to begin editing the thank you page.
On this page we adjust the telephone number and (if relevant) the expected time to response. We do this just as we did in the previous page, clicking the text we want to edit and changing it.
You may also want to change the background colour to better suit your colour palette. To do so select the background section. When you have the Section selected you'll see the below teal/green coloured controls in the top right. That teal means you have the section (rather than a row or column) selected. Click the Cog icon to access the section settings.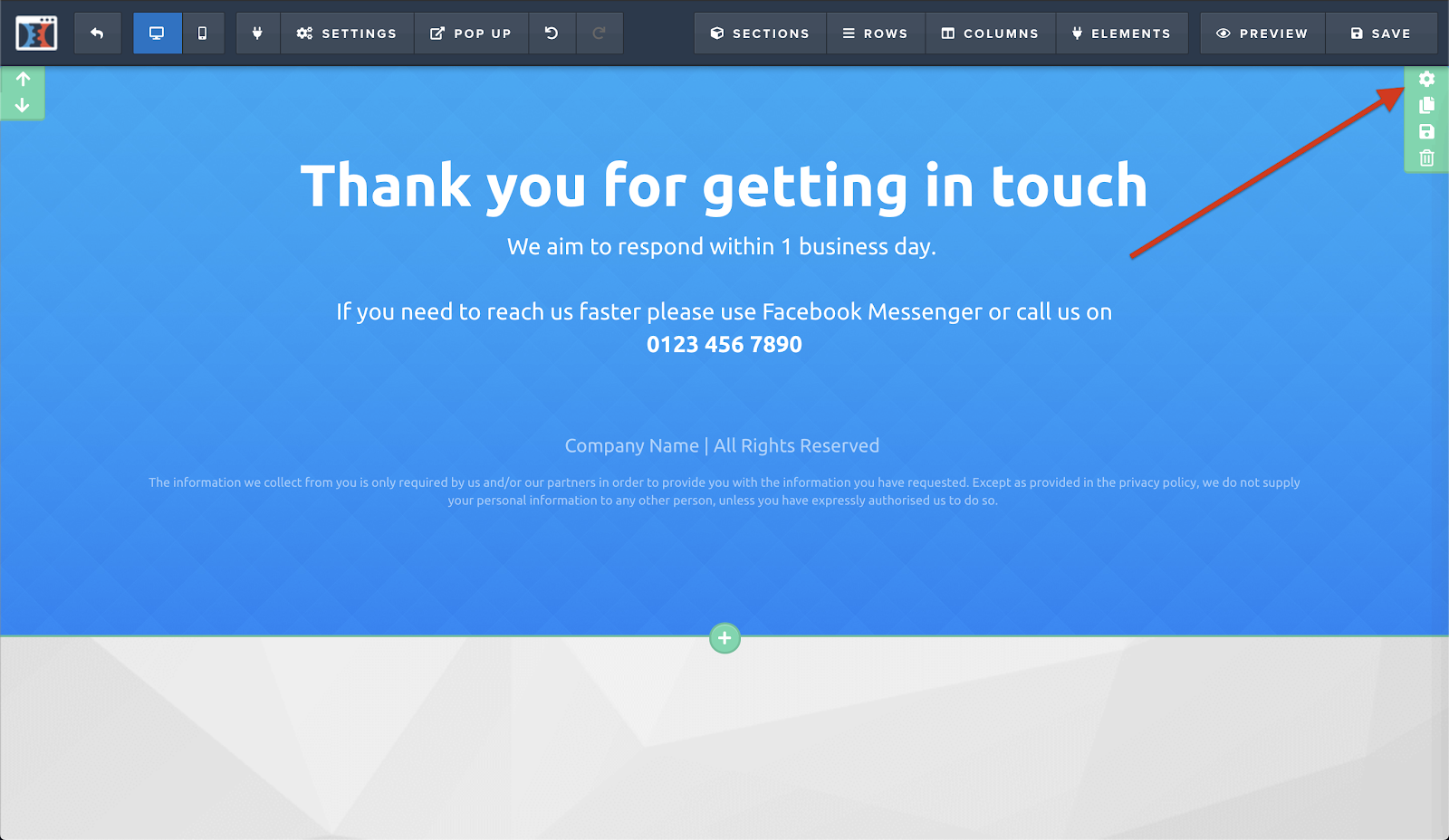 Now click this icon:
You are now in the Background Image options.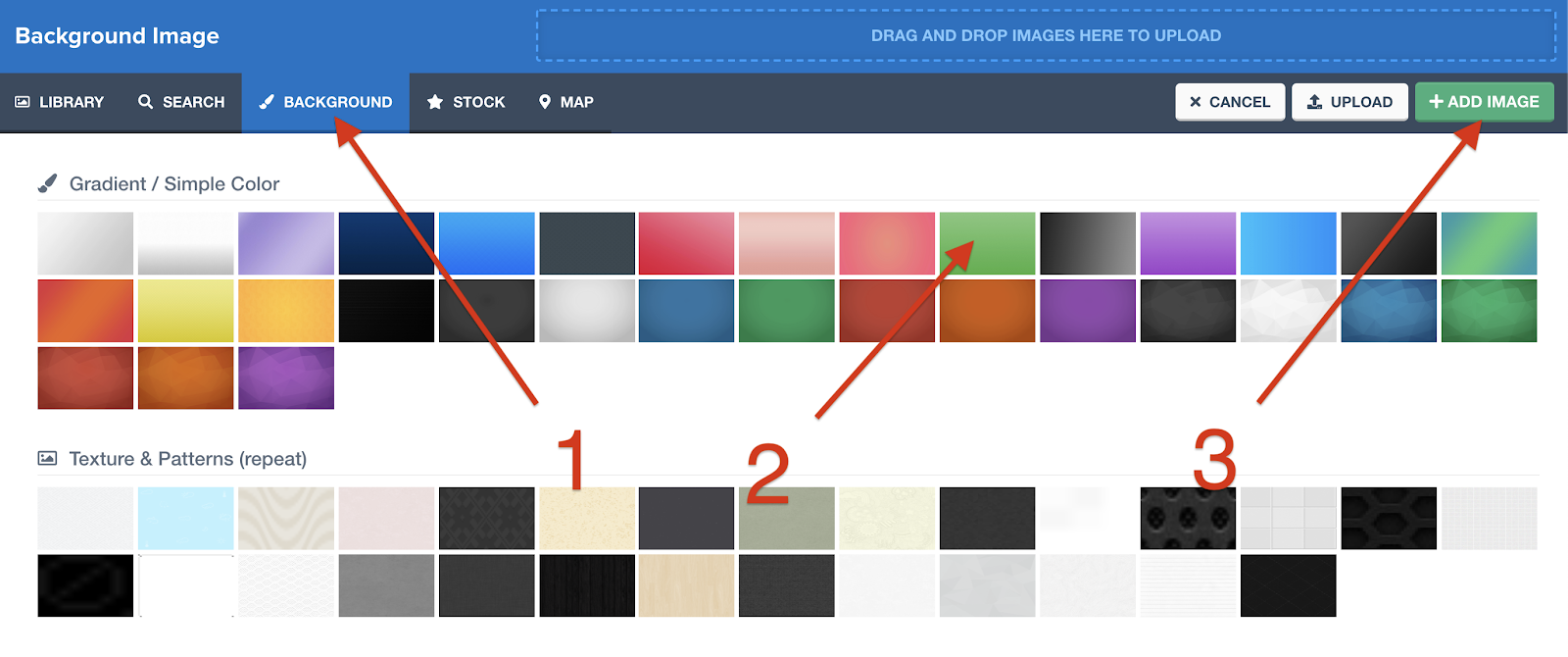 Click Background in the top menu to get access to the Gradient/Simple Color and Texture background options. Choose the colour you want and then click +Add Image in the top right. Repeat this with different colours until you find one that you like.
Setting up email notifications
We now have the basic two pages locked and loaded. They are already set up to communicate with one another. When a visitor enters their details into the form on the first page the system will trigger, collecting their details and sending the visitor onto the thank you page. This has been set up in the template itself so you don't need to worry about that.
What we do need to do though is make sure that Clickfunnels notifies you of the new contact details. You don't want to have to keep logging into Clickfunnels to manually check it!
To do this we'll have to add you email address so that Clickfunnels sends you a notification email.

First head to Steps. Second, make sure the main we-buy-houses Funnel Step is selected. Now click Automation. In the automation tab click +Add New Action.
Go ahead and fill out the New Action details like so, replacing youremail@email.com with your real email address!
Make sure your real email address is in the Email to Notify box.
If you want to add more than one separate the emails with a , comma like so:
email1@gmail.com, email2@gmail.com, email3@gmail.com 
Save your automation action with the Create Funnel Action button.
We are now so so close! Let's take the page live and test it all works.
Going Live – Domain Name
Want to learn through live lessons?
Join our popular Building Businesses Online Property Workshop!
To take any webpage live we need a domain name. Google.com is a domain name. Bstreetdigital.com is a domain name.
You can buy domain names from companies like Namecheap, Bluehost, Godaddy etc. They are usually $10-30/year or so, depending on how many years you buy at a time, what privacy settings, whether it's a highly desirable domain etc.
Clickfunnels will give you a domain free for a year which is helpful. This also means we don't need to faff around buying a domain from one company and transferring/pointing it over to Clickfunnels. This is a fiddly process and unenjoyable for even the technically minded! So we'd highly recommend you just use Clickfunnel's free domain. It's $20/year after the first year which is in line with the normal market price.
To get your free domain head to https://clickfunnels.com/account/details/show whilst logged into your Clickfunnels account.
Alternatively click the icon in the top right of the page to access your user settings. In the dropdown menu select Account Settings.
Once in Account settings scroll down and look for Domains on the left hand side of the page. Click Domains and then +Add New Domain.
You'll be given the choose to Register a new Domain or Add your Own Domain. If you want to get it directly from Clickfunnels (recommended) click Choose a Domain.
If you are porting your own over then there are full instructions about how to do this. The details will differ depending on where you purchased your domain (Godaddy, bluehost, namecheap, hostgator etc.). If you have no idea (perhaps you registered the domain years ago and forget where) try https://www.whois.net/ to get the background details and see if it rings any bells.
Tell Clickfunnels which domain you wish to register and follow through the steps to register it. Not sure what domain to use? We covered this a little back in the step on branding : i) Try to get your location and your basic business service in the domain name ii) Use namecheckr.com to see what is universally available. iii) don't worry if it is different to your licensed business name.
Once you have got your domain registered with Clickfunnels we can go ahead and hook it up to your webpages. Make your way back to the We Buy Houses funnel. From the top menu it's Click Funnels > Funnels > We Buy Houses template.
Once back in the Dashboard click Settings.
In settings look for Domain. There will be a dropdown menu here and one of the entries (maybe the only one) will be the domain that you just registered. If it's not there yet wait 10 minutes or so for the system to update – you may just have been too fast!
If you still aren'[t seeing anything click the Add/Edit Domains link there in Settings and make sure that the domain is actually registered properly. The registration may not have confirmed for whatever reason.
Still no luck? In the bottom right of every Clickfunnels page is a chat function. Open up a chat explaining your issue and the helpful support reps will get it sorted fast. This is one of the HUGE benefits of a hosted service like Clickfunnels over self-hosted WordPress – less time wasted on technical issues!
If all looks well go ahead and navigate to your page in your browser (Chrome, Edge, Safari etc.). You should be able to see you page live. Cool huh? That page is now accessible to the public.
Go ahead now and run a test. Enter some details into the form on your page or get a friend/partner to do so. Make sure that you receive a notification email from Clickfunnels! This is a very important last check because we want to make sure we are getting notifications of potential leads. Boring but essential!
In the next step we'll be looking into how to get people to our webpages! This is commonly forgotten and the main reason why so many people set up digital marketing and then abandon it. We'll show you the best single way to get traction fast and get some leads coming in.
Once we've shown that the system works we'll loop back and pad out our pages with some more useful tools – Facebook Messenger live chat, a high converting video and additional analytics for greater data gathering. We don't want to do all of this yet though – let's first get the ball rolling so you can see the benefits of these extras.
---
Step 5 : Traffic – Getting Visitors to our Page
This is the point at which most people get stuck. You now have a website – hooray! Surely now the Gods of Google will anoint your webpage and bring hundreds of people an hour to your site. Well, sadly not.
Back in the day (and this was a while ago) you could put up a webpage and as long as it was relevant to your local area and speciality you'd get traffic. Like the film Field of Dreams – "if you build it they will come".
However, there are a lot of websites out there. As of January 2019[3] an estimated 1,518,207,412 websites. These websites hold around 4 and a half billion webpages. There are around 380 new websites published every minute – so 547,200 a day. Bugger.
Because of this we need to be smart about our launch. We can't just put the page out into the world on a wing and a prayer and wait for business to start rolling in. Instead we need to tell people that we're in business. Thankfully this is easy to do if you know the basic steps. We will need to spend a little money here but we can start with around £5-10 and still get results.
Traffic Generation for Real Estate
Traffic ("getting people to your website") is a BIG topic. If you've dug into digital marketing at all most of it is concerned with traffic. Cutting through the noise of the internet is a big task. Whilst it would be possible for us to inundate you with all the methods of generating traffic this won't help.
Sure, you'll have a comprehensive idea of what's out there – what the full menu is. But choosing from this massive selection is overwhelming. If you do know a bit about digital marketing already you may be thinking "well that's not what I would do first" – and that's absolutely cool. The basic idea here is to get everyone started with something we know works and then we can get more fancy.
Right now though  we'll focus on one thing that we know works and guide you through it. If it works for you then we do have other resources showing you how to expand. But first let's get that initial method up and running!
Basic Method for generating Real estate leads
We'll be using a boosted Facebook video post to talk directly to people who might be interested in selling their home and asking them to head over to your new webpage to find out more about the process.
To do this we need to do a little prep work, primarily creating a Facebook Page for your business. We also need the Facebook Page to look professional so have to apply a little branding work on it before we go live.
Why is this? – well, to access Facebook's advertising interface we need to use a Page not a Profile. A Profile is your individual personal account – a Page is linked to a specific business or interest. We also need the Page to look professional because people checking out our boosted post might go back to our Page to check out our company.
Thankfully we can use our work for our webpage branding to quickly make a professional looking Facebook Page.
Once this groundwork is done we'll record a video using a script we'll give you. Don't worry – the process isn't as scary as you might think and the video doesn't need to look super professional. In fact the more "professional" the less authentic it'll be.
With that video we'll set up a boosted post for around £5-10 to get it to thousands of potential leads in your area of interest. We'll walk you through the ad set up process.
Finally we'll make sure that the ad is working – we'll set up tracking on our webpage so that we know how much each lead is costing us. Based on that (and the mathematics of what a lead is worth to us) we can decide how to scale up.
Setting up a real estate Facebook Page
First step is getting a Facebook Page up. If your business has one – great. You can skip this step.
Otherwise head over to Facebook and log in using your normal personal profile. Don't have one? You'll need one to access Facebook's advertising tools. Even if you don't use Facebook personally (Kyle doesn't!) you can just set up a blank personal profile account and that's all you will need.
When logged in head to https://www.facebook.com/pages
At the top of this page you'll see Create Page

Go for Business unless you are going fully down the personal branding route. This is beyond the scope of this particular course. Your page type can be changed later so there's no need to stress this decision.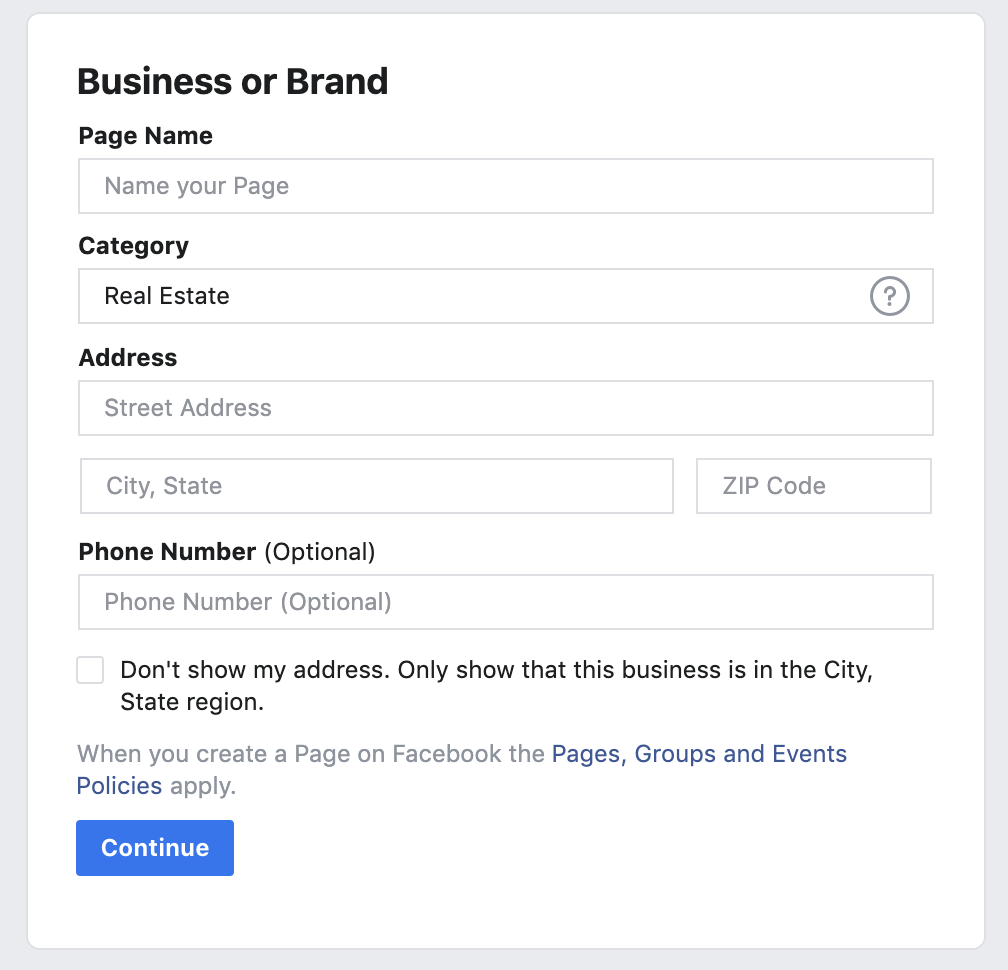 Fill in the basic details about your Business:
Enter your business name, address (which can be hidden) and category. "Real Estate" is likely the closest – there's no specific category for vendor purchase companies.
Now you need to upload a Page image. The natural tendency here would be to upload your logo. You've even got a nicely designed one now from our Canva work earlier!
However, we recommend you use your headshot. Your personal photo. Why's this? People do business with people, not faceless companies. We've touched on this before when adding personal details to our webpage earlier. We're going to carry this through to our Facebook presence. Because of this we highly recommend using the personal headshot image here!
Next up is the cover photo. What's the cover photo? It's the big "header" image you see at the top of every Facebook page. Here's an example from one of our pages:
Notice that we've used the cover image to put in additional information about our business and what we want our visitors to actually DO (here it's join a group).
Creating a Facebook Cover
How do you get a nice looking cover image for Facebook? Canva to the rescue again! Canva has built in templates specifically formatted for Facebook Covers. They match the exact dimensions and are easy to edit to match your brand.

You can then browse through the templates until you find one you like the look of. There's also a search feature where you can enter terms like "property" and "real estate" to get specific designs. However, because you can edit any template there's no real need to stick to just these – go with something you like the look of.
You can replace the image in any template using one of Canva's library images.  Select Photos on the left and then you can search for any image you want. If you want UK property photos make sure to enter "UK" or a specific city name – otherwise you'll just get lots of pictures of American houses.
If you don't find anything good on Canva also check out https://pexels.com/ and https://stocksnap.io/ for royalty-free and zero cost images.
Once you've edited your Facebook Cover image to your liking Download it as a PNG and upload it to your Facebook Page.
You can either do this during the page Setup process or once you've got the Page live by clicking here:
A couple of final steps.
See that +Add A Button section in the image above? You can set that as your Call to Action (CTA). Right now it's best to set this to send people to your webpage.
To do this select "Learn more about your business", "Learn More", Next and then enter your webpage address here.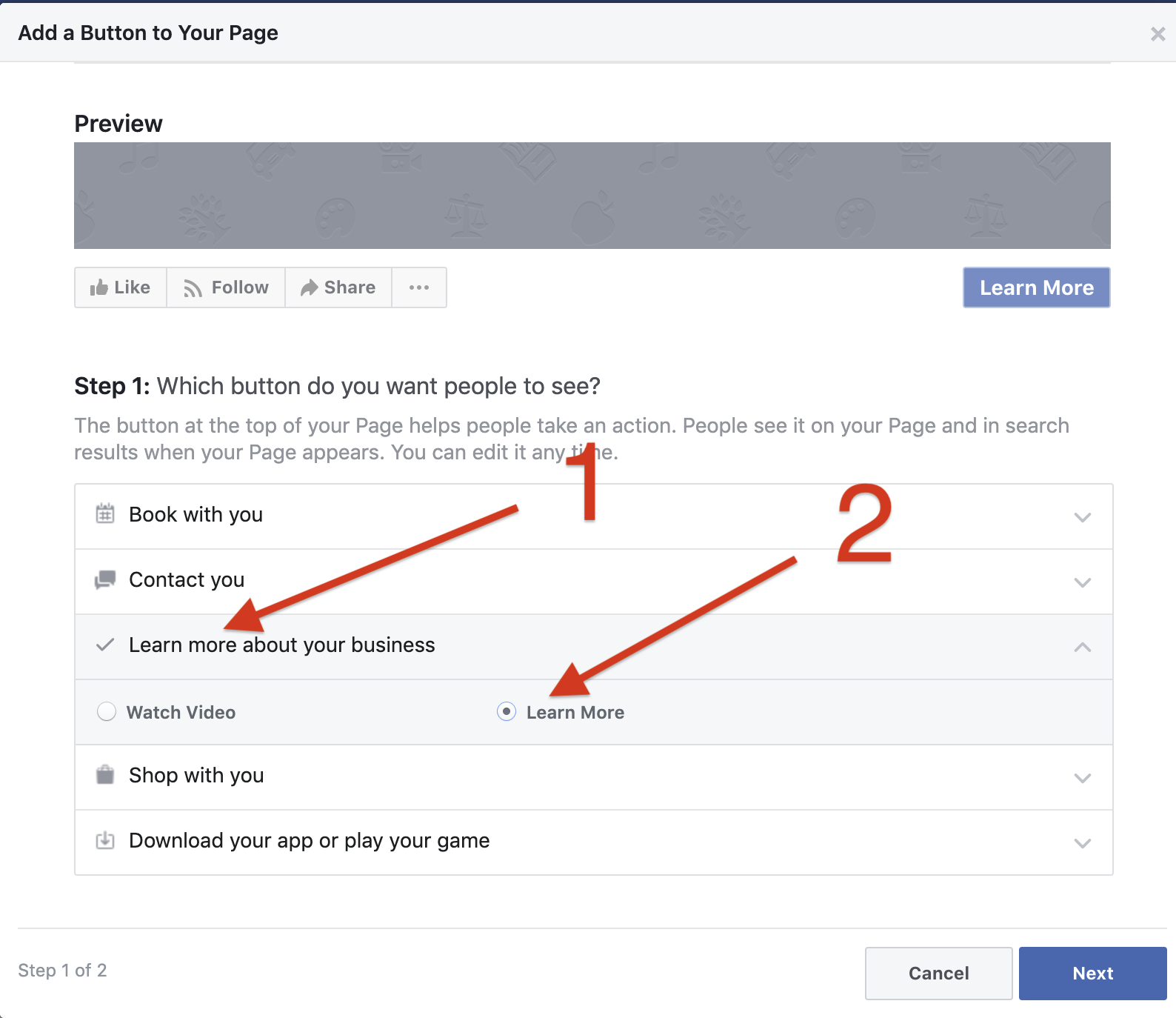 We've now done enough basic branding on our page to cover us if anyone comes back to our Facebook page upon viewing our boosted posts. However, the vast majority will not – they'll either i) scroll past our post or ii) go to our webpage like we are asking.
Still, it's important to have the basics of the Page in place in case anyone is checking if you are "legit". Such a person is at least taking the time and effort to check you out – this is a good sign!
Now let's move on to the post we're going to be sending out.
Our first boosted Facebook video
First let's deal with the question many of you will be asking; Why video?
Shooting a video featuring yourself is a nightmare for most people. I know it was for me (Kyle) when I started doing it.
This is actually a positive thing. As long as most people stay away from video it makes it an extremely effective platform for us to be using. Is anyone else in your market using video? Probably not. And if they are you've likely noticed because it's effective!
If you can work through your initial discomfort you'll have access to the most effective mode of mass communication currently available. Let competitors mess around with flyers and text based advertising whilst you move on ahead.
Second, Facebook (and all social media platforms) massively prioritise video content over non-video (text and image) content. Facebook in particular are trying to overtake Youtube as the most heavily trafficked video site on the web. We'll be paying Facebook to boost our content to an audience. Guess what Facebook makes it cheap to advertise with? Yup – video. You can get 10x ++ reach for the same cost by using video because Facebook want you to use video.
Third, remember how we talked about the importance of trust earlier. You are selling trust when you first communicate with a potential vendor or investor. Trust comes first. Video gives us the second most powerful tool for building this trust. The first is face to face – always the best method. Video comes in second but has the added benefit of allowing you to communicate with many many more people than if you were to use face to face communication only.
Video, like face to face, let's people look you in the face. They can see your eyes, hear your tonality, watch your body language. You now have so many more tools of communication and persuasion at your disposal than if you were simply using text.
What's going in this video and how do you record it?
The content of your video is basically the same as the content of your webpage. We maintain congruency throughout your marketing. We want people to hear the message on Facebook via your video and then come to the webpage to be delivered similar information, simply in a different format. Don't complicate the matter by talking about two completely different topics.
Your basic script should follow this outline:
Pain point as a question: "having trouble selling your house in Burnley?". We use a question up front as a hook. The location is also key so that people know that this isn't a nationwide, non specific advert.
Immediate introduction to the solution; you and your company. "I've helped 100s of people like you get their houses shifted, regardless of the market."
Who are you. Links to local area, anecdotal information that will resonate with the audience.  How long you've been operating in the area.
Who you can help – list out the types of situations you can assist with. You are a problem solver.
Next steps; tell them to head over to your webpage where there are a whole bunch of details on the process so they can decide if it's for them. Also a Call to Action for them to contact you via Facebook Messenger.
And that's it. Nothing fancy. Problem/solution, briefly touching on who you are and who you help and finally the next steps. The whole video should be less than a minute.
In terms of how you film it there's no need at all to hire a film crew, set up a studio environment and get a professional video. In fact, this will hinder you right now. All of that not only costs money that you should be investing elsewhere in your business right now – it also degrades the authenticity of your message.
People have had enough of slick estate agents in nice suits. Play on this – hell, you can even say "Sick of Foxtons?" or something similar if you really want to go down this route! You are communicating to your audience instead as a person – an individual who can help them with their current life situation and has a track record of doing so in the past.
To record therefore you just need your phone. Your iPhone/Android camera is a modern marvel of technology that can shoot HD video no problem. As long as you get your camera steady (a tripod is helpful but in a pinch you can lean your phone against a stack of books on a head high shelf) and the room is light enough the video quality is perfectly sufficient for the current test.
If anything the biggest weakness with phone recordings is the audio. Phones have rubbish microphones. It's not bad enough to ruin the video but make sure you are in a quiet place. You can use a pair of headphones with a built in microphone to improve the quality too – the new Apple airbuds are perfect for this so you don't have cables swinging around during your video.
Another nice touch would be to record your video at a house you've just purchased. Being able to show an actual property you are working on is a great legitimacy booster – it makes your claims very real. If you can't manage this in a specific property then doing a video in the area, near a recognisable landmark, is a good next bet.
Getting the message out there : Facebook advertising
Prefer to have everything in this guide taken care of for you?
Enquire about our done for you service.
First of all, visibility requires a small investment. There's no way around this I'm afraid.
Facebook (and most social media) used to be small enough that your messages stood a chance of being seen. Nowadays social media is so noisy that not even the people who specifically follow you will see what you post. Facebook's algorithms have changed over the years all in reaction to the sheer deluge of content that an unfiltered stream would bury their users under otherwise.
Because of this so called "organic reach" is dead. It has been for years – don't just post and hope "it'll go viral". There's no such thing anymore I'm afraid. Instead reach has to be engineered.
That's the bad news. The good news is that you now know this and 99% of your competitors do not. If you spend £5 on Facebook advertising you are spending infinity more than your competitor who is spending £0. And Facebook will reward you handsomely for this.
Because the majority spend nothing just by anteing up a small amount you can get massive reach and visibility. In the case of property this exposure can lead to significant amounts of incoming revenue – despite this many people are wary of spending anything on online advertising.
 The same people won't blink at dropping £500 on flyers, most of which will moulder unused in a garage or at best in the wastepaper bin of a potential lead. (I'm being mean – offline tactics can work. They are just far less efficient.)
To boost a video on Facebook we can either use Facebook's Ads Interface (fiddly, high learning curve but full control) or post the video and then boost it directly from our page (far simpler, less control). For now we'll focus on the later. If you want to learn the ins-and-outs of the Facebook Ads Interface we go through it far more in other trainings.
First up let's simply post our video. Simple!
You'll want to add some text along with the video when you post it. Why? You get this additional real estate on the page when you also write text that goes along with your video. Your boosted posts will simply take up more of the screen – simple but important!
The content itself also needs to make sense though. We'd recommend something simpler following the basic script of your video:
"Hi, I'm Kyle. Right now I'm helping people sell their houses in Birmingham quickly. If you are having trouble shifting your property for whatever reason let's talk."
Something as simple as that. You don't have a huge amount of space so stick to the essential message. Be careful of using "salesy" language – Facebook is more likely to shut your post down if you fill it with exclamation marks and dollar signs. Facebook's rules on this sort of thing are always shifting and (to be honest) their decisions seem somewhat arbitrary.
Once you have your basic video post (with text) posted to your page you'll see a Boost Post button. Make sure you are logged into your page as the Admin.
It'll look like this: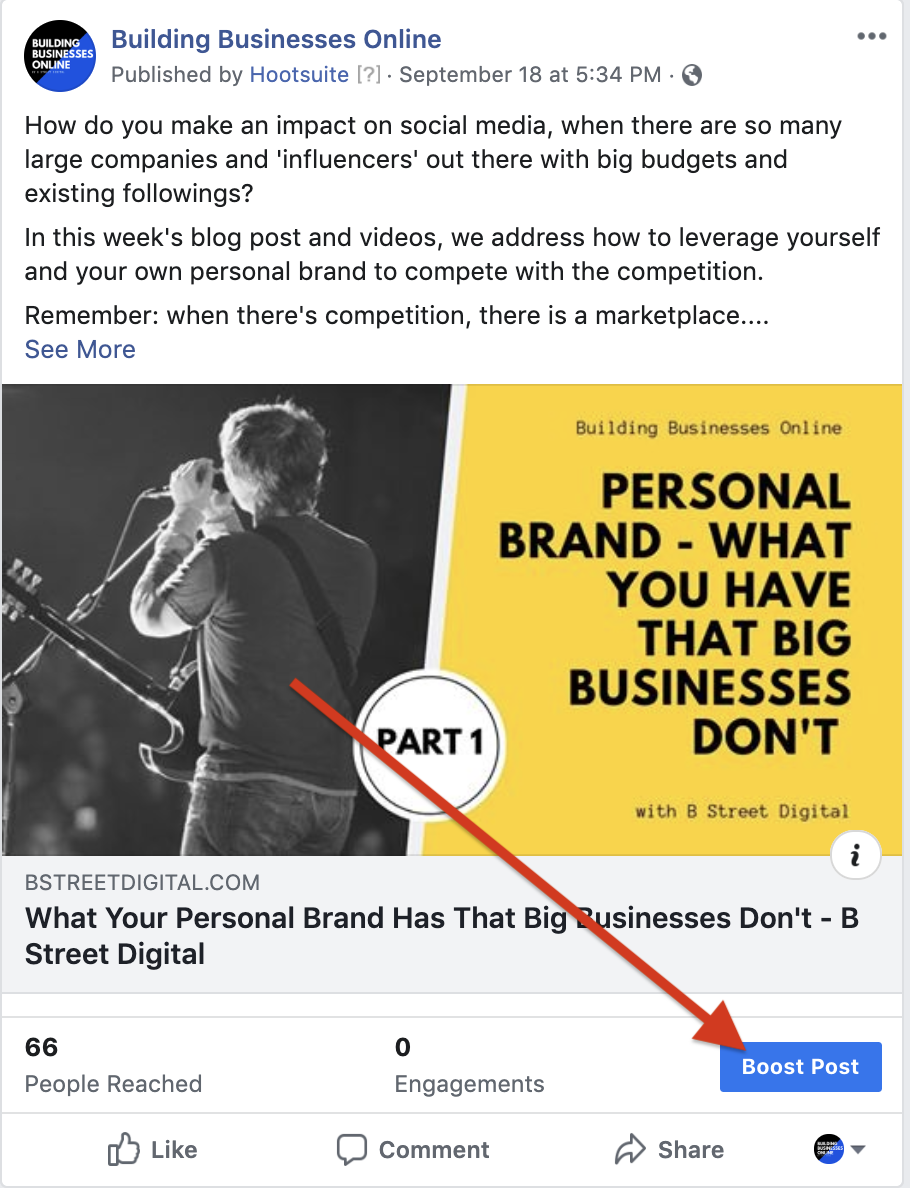 Click Boost Post and you'll see something like this: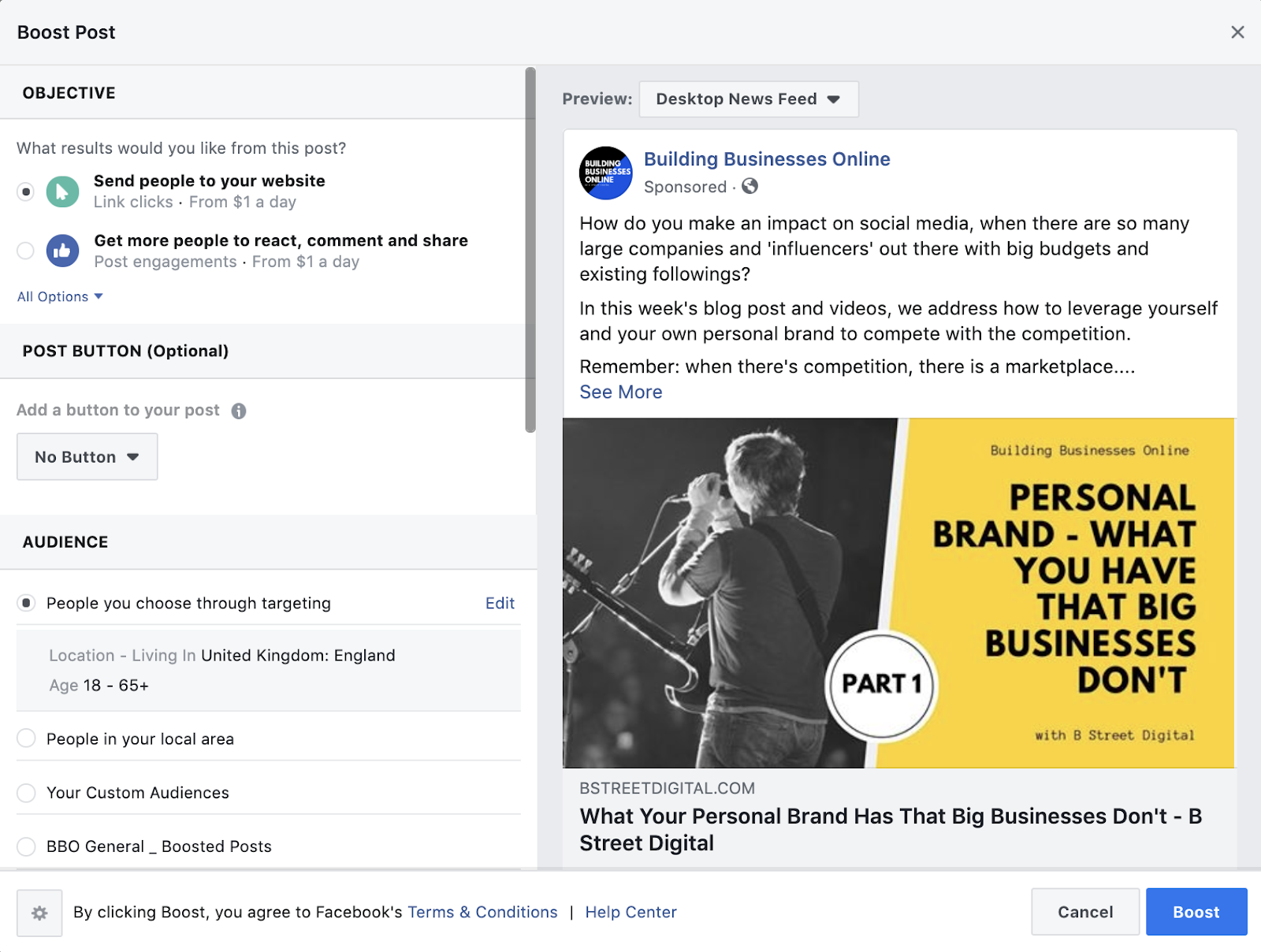 On the right is a preview of what our boosted post will look like. You can change the preview to see how the ad will display on desktop, mobile, ipads etc. using the dropdown menu.
On the left is where we do the actual work of boosting our post.
First up objective – right now we are sending people to our website. So leave "Send people to your website" highlighted for now.
The post button is the next thing we need to decide. This is the button that sits below our boosted post with our Call to action.
Here are the options Facebook provides us: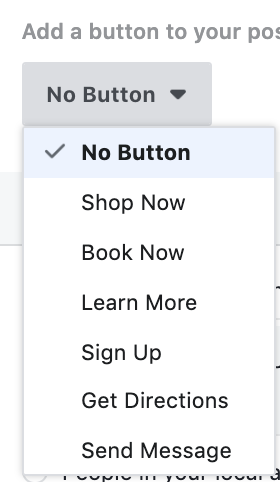 What to use? Learn More.
Here's a link to an article which goes through a quantitative test of the various buttons and how they perform: https://adespresso.com/blog/best-cta-facebook-ads/
In our case though Learn More will be best.
Next up the Audience targeting. This is the trickiest part. Next to" People you Choose through targeting" choose Edit and you'll see the audience targeting interface:
We have a MASSIVE amount of power using this interface. For those who haven't delved into Facebook's data it's quite scary. I suggest you poke around a bit. Again we cover this in more detail in other trainings – right now we just want to give you a campaign to start with.
For finding vendors who want to sell their property we have a couple of routes.
Use demographic and psychographic data
Target a wide area we know has a lot of vendors sales
Using demographic data basically means looking for the sort of people who would be looking to sell quickly. This depends on their reasoning – are they insolvent, going through a divorce, have a property stuck in probate or simply wanting to relocate fast. We can use Facebook to work out targeting for (most of!) these. There are targeting options like the number of credit cards they have or even (in the US) what percentile income level they are in.  
However, because these demographic and behavioural audiences need a little more work (depending entirely on who we are trying to get to!) we'll stick to the wider area targeting for now.
The key here is to choose an area you know works for vendor sales. This is information you should know from your property investment work.
We could just target a whole city but there will always be certain areas (generally but not always the less economically developed) that will be better for finding vendor sales.
Amazingly Facebook gives us this level of microtargeting. I'm writing this from a cafe – here's the area directly around the cafe, just a few blocks:
Talk about microtargeting! If you know that there are lots of vendor sales in this area (for whatever reason) you could hone in on this tiny tiny area.
There are 11,000 Facebook user (age 18-65+) in this area. Not bad! However, this is slightly too small for Facebook .
I'll go ahead and add in a few more postcodes:
Notice how at the bottom Facebook is now showing a "defined" audience. This is a good audience size that Facebook will let me advertise to directly. Here it is 36,000. The exact number will change depending on your particular areas but 30,000 is a good rule of thumb here.
But wait, what 18 year old owns their own house? Not many! And those who do are likely to be pretty well off and not need to sell fast! Statistically at least. So let's adjust our ages. Specifically to 30-65+. This is a solid homeowning age nationally. It'll tend to be higher in London because of prices. You should be able to look up the average homeowner age in your target area on Google or simply make an educated estimate based on your knowledge of the area.
Obviously if you mainly work with a certain age (for instance retirees who have a lump sum of capital but suddenly no income) then you can use this in your age targeting here.
Our adjustment in SW2 has the effect of making our audience too small (under 20,000) again. That's fine – we'll just add in some more areas to balance this out. Again, areas we are targeting because we think they are good for buying direct from vendors.
Bingo – 39,000. Good to go. We can now save this audience and move on.
Let's stop a moment and think about what we're doing here. We're talking to everyone in this local, highly specific area and saying "hey this is me and this is what I do. If I can help you let's talk". It's the equivalent of setting up a billboard in your area of interest.
This is why it's super helpful to record your video in the area you are targeting. Imagine the effect of seeing (on Facebook) your local high street or a local landmark appear all of a sudden in your feed. It'll grab your attention – far more than the generic "we buy houses" ads out there. And because we've focused on personal branding you as a person are associated with the area – being knowledgeable and the "go-to".
Will everyone in the area contact you? No. But they don't need to.
You cannot control when people suddenly need to sell a property. That's likely external to even their control as divorces, probate and sudden moves tend to be. But if you are visible and known in the area for being able to help with these sort of problems then the fact that you are regularly appearing in front of (in this case) 39,000 people means that a handful will contact you. And in the business of property each lead is extremely valuable.
How many people will we reach? This will depend on budget. We recommend you run your campaign for 7 days. This is long enough to see results without being so long that you will lose money on a bad campaign.
At $5, 10 and $15 a day:
$5/day for 7 days is $35. Average daily reach of ~110 or 770 people in a week
$10/day for 7 days is $70. Average daily reach of ~200 or 1400 people in a week
$20/day for 7 days is $140. Average daily reach of ~375 or 2625 in a week.
This is a London area budget which will tend to be higher (due to more competition from all other advertisers) so you will likely see very different numbers. Helpfully Facebook gives you these estimates up front so you can adjust targeting accordingly.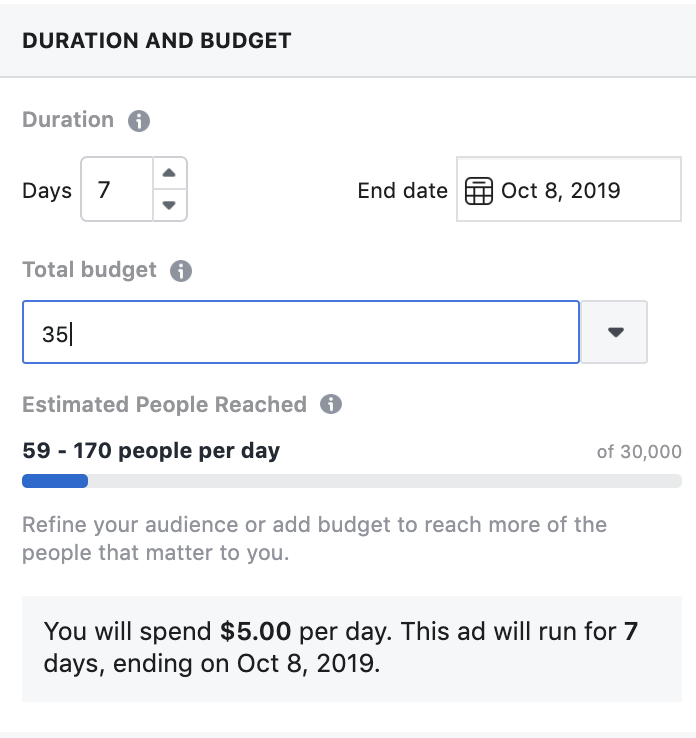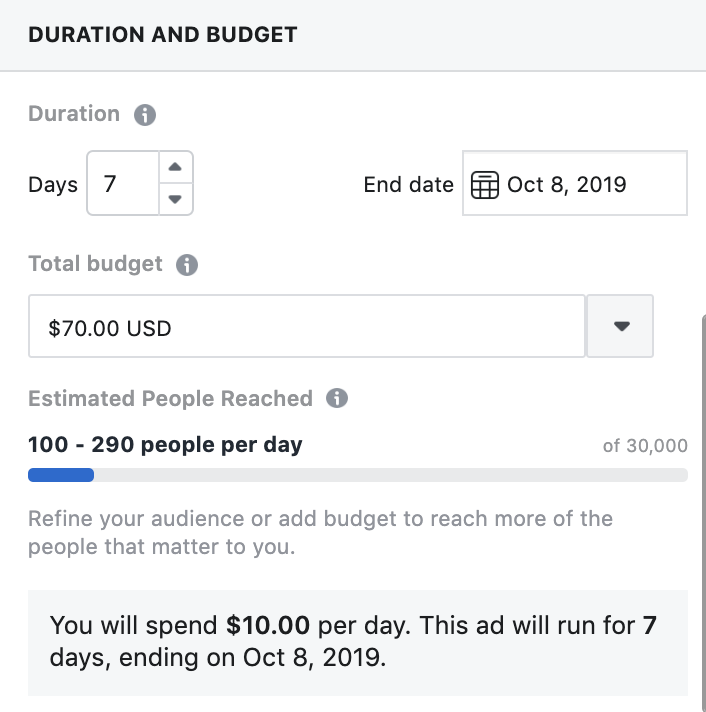 We recommend you set as high a budget as you are comfortable with testing for 7 days and see what the results are. The average value of a lead in real estate in several hundred pounds so if you even get a single lead at these sort of budgets it's a successful campaign.
Obviously over time different strategies can be tested out but for now we recommend just trying out a basic campaign like this to see the power of Facebook and the method taught above.
You'll notice a few more options about tracking. This requires setting up a piece of code on your website that tracks who comes from the advert through to your website and goes ahead and contacts you.
However, because we are just running this single advert for now we don't need to worry too much. Assuming your site is brand new and you have a single advert set up we can reliably assume that 100% of the leads you receive through the site are from your video advert. We will set this up later but right now don't let it stop you from getting moving  – momentum is key.
Step 6: Generating more real estate leads
Your page is up and you are starting to get leads – fantastic!
Now that you've seen the power of this method for finding property deals let's see how we can improve your conversion rate and therefore decrease the cost of getting a lead.
If you are getting 100 people to your site at the moment and 1 person is contacting you that is a conversion rate of 1%.
If those 100 people cost you £100 to get to your site (£1 each) and your conversion is 1 person that means you are paying £100 per lead. This isn't a bad figure at all for property but let's try and reduce it.
This step will include a few tactics for decreasing this cost per lead. We didn't include it before before because these steps are a lot more fiddly and again we did  not want to slow down the time to launch.
We're going to look specifically at:
Adding Facebook Messenger for immediate customer conversations.
Adding a video to your landing and thank you pages.
Adding Facebook analytics and Google analytics so we know what is working and what is not
Live Chat using Facebook Messenger
First up Facebook Messenger. You may have seen this on pages before – if not check out B Street's homepage here: https://bstreetdigital.com/
In the bottom right you'll see a chatbox pop up. That is directly linked to our Facebook page. It's also directly linked to any B Street member who has the Facebook app on their phone. They'll immediately receive a message and can respond in seconds. This is extremely powerful for conversions.
Normally someone trying to sell their property will have to call you for an immediate response. People are less and less willing to do that today. Even if they do call though do you man your phones 24/7? Probably not. So many leads will send you an email via your website. This is absolutely fine but it's not as immediate as using Facebook Messenger.
Imagine the lead has gone to your website and the websites fo another 4 or 5 competitors they found on Google. You are the only one who uses messenger and you get straight back to them and engage in a conversation. Chances are you are going to win that lead. Messenger gives you a massive advantage.
At the time of writing Clickfunnels has released an early version of a direct integration between Clickfunnels and Facebook. But it's only available in the most expensive version of Clickfunnels and it is still in beta (early days for the software). When it released this step will be a lot easier but for now we'll have to copy/paste a bit of code into Clickfunnels.
First up make sure you have a Facebook page for your business. If you've been following through you should have – it was covered in the Traffic step.
Log into your page on Facebook as an admin. Then click Settings up in the top right of the Page:
Find Messenger Platform in the sidemenu. Scroll down until you find Customer Chat Plugin and click Set Up.

This will take you into a setup process.
In step 1 you can change your welcome message. "Hi, Kyle here – anything I can help you with today?" or something simple and friendly is all you need here. Don't bombard with information or offers – just a hello to elicit conversation.
On the second step you can change the colours of the messenger window. You know your brand hex codes from the design step so feel free to experiment here. Otherwise leave it as default. Simple enough so far.
Next you'll get to the third and final step:
Eek! Don't panic! We're just going to be copy pasting this. You don't need to know how to code!
First in the top left add your domain. This is the domain you set in Clickfunnels during set up. Make sure to add the https://. Facebook will remind you if you don't. Click save and the code on the right will be adjusted.
Now, we're going to copy paste that code on the right into Clickfunnels.
Quick thing – don't copy/paste it into Word or a similar word processor and then into Clickfunnels as some word processors add invisible characters to help with spacing and these will muck up the code. So copy paste direct from this window in Facebook into Clickfunnels. Leave this window open for now whilst we get Clickfunnels ready.
Log into Clickfunnels. Find your funnel (the one we've been working on all this time).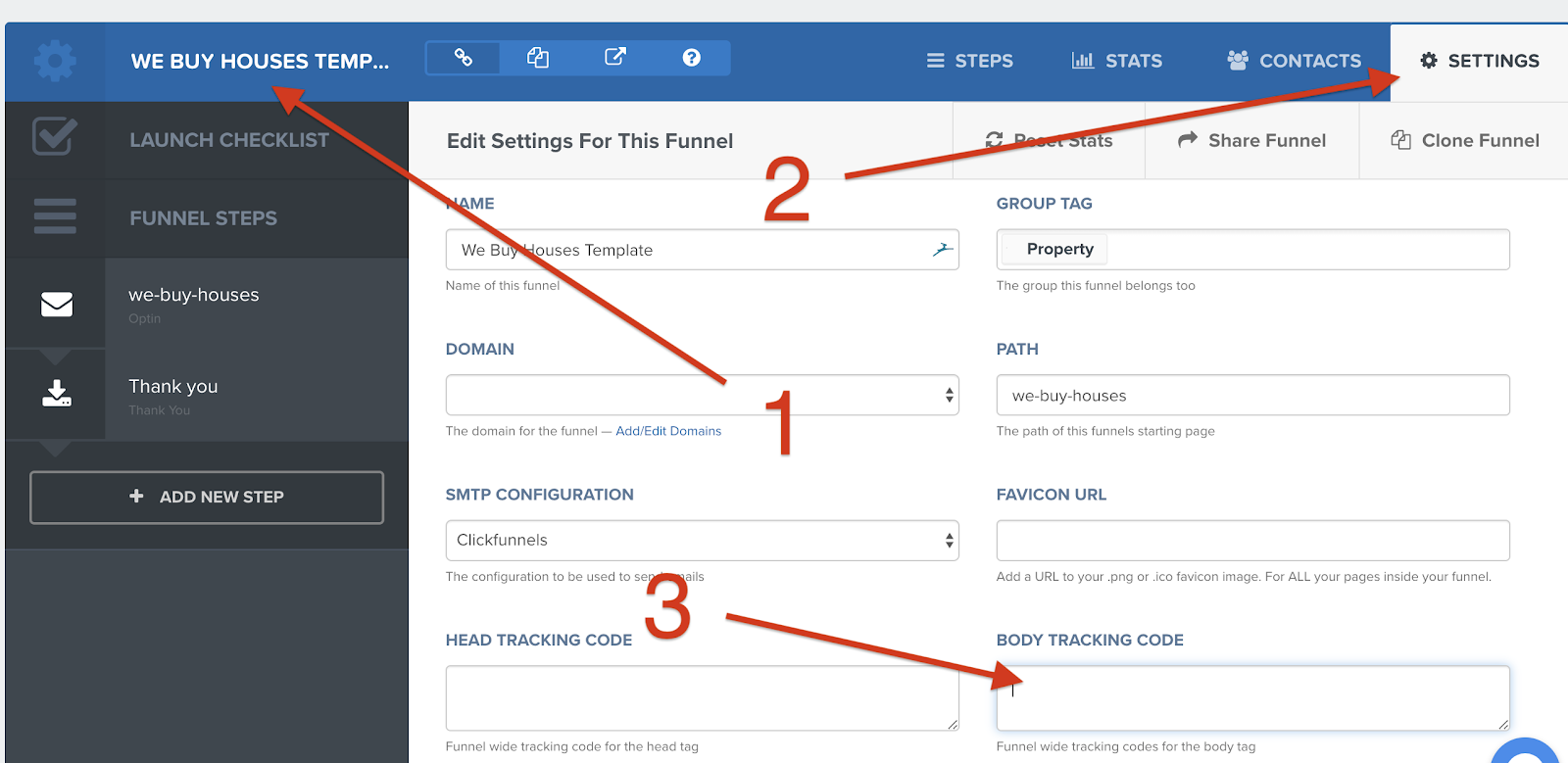 Make sure you are in the right funnel (1). Click Settings in the top right (2). Then find "Body Tracking Code" (3) and paste the code from Facebook into this box.
Make sure to save changes at the bottom of the page. And that's it. See, not too scary.
Head to the live version of your website and check to see if the Facebook Messenger icon is in the bottom right. Send yourself a message on the page and it should appear as a message in the Inbox of your Facebook page. If you want top be able to respond immediately download the phone app for Facebook Pages Manager (not the normal Facebook app) and make sure notifications are on.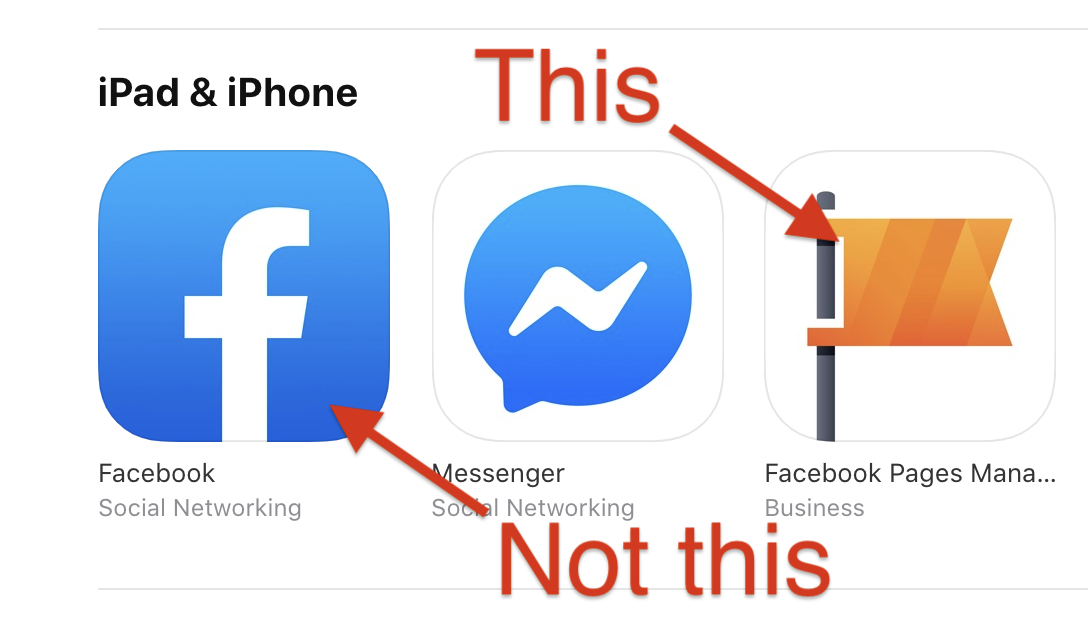 Adding videos to your pages
Hopefully you've seen the power of videos from your boosted Facebook post. Video is just a much more efficient and persuasive medium of communication online than text, which people just skim.
Knowing this we can increase convertibility on our pages using video.
We can add video on the Landing Page and/or on the Thank you page. Want to know a secret? There are already sections on both pages for you to add videos in. They are just hidden so that you could add them in now. Let's uncover them!
Log into Clickfunnels and get your main Landing Page open.
Hover over Sections and then click Manage: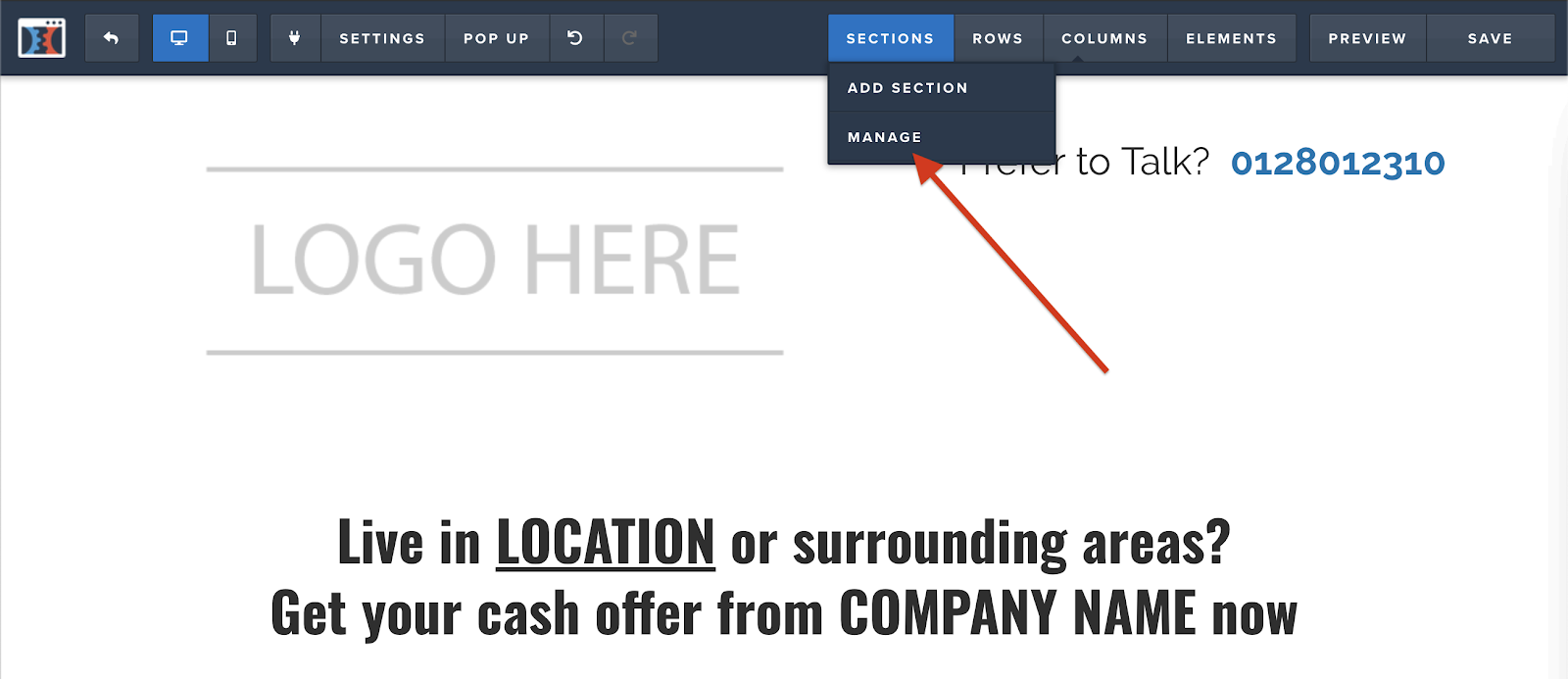 The manage section menu has all of your sections listed out in order. One of these things is not like the others:
The eye icon toggles the section between Visible and Invisible. The only invisible section on the page is…you guessed it…the video.
Click the eye icon and presto the video section will appear on the page. It was always there, just not visible to visitors.
What about the Thank you page? Same trick, slightly different method.
Head to your Thank you page.
This time Elements (not Sections) > Manage:

Find the video element and click the Eye icon again to make it visible.
Nice! Now you have the ability to put videos on both pages. Obviously if you don't want video on one or either page just set them back to invisible. If you decide to add video later you can always come back and make them visible.
Now that we have a place to add video there are a couple of questions: i) what should the video be? And ii) how do you get it onto the page.
First what should the videos be. Different answers for the two pages obviously.
On the Landing Page you ideally want a video that follows on from your initial boosted video on Facebook. Think of this as an ongoing conversation where your speaking partner communicates by clicking rather than talking directly.
On Facebook using the boosted video we kept it short and sweet – "Hi I'm Kyle. I buy properties around Stockport and I'm looking for new houses right now. If you are looking to sell your property for cash at the moment get in touch. Click below this video to learn more".
If they are interested they'll click. These people go to the page as visitors. If they are not interested they will not click. Not our problem.
For the people who arrived on the page as visitors we continue the conversation:
 "Hi, Kyle here. Thanks so much for coming and checking out what I do. I've put some information on this website about our process buying properties here in Stockport. Right now I'm interested in helping people in situations X and Y and Z to sell their properties quickly and without fuss.
 Have a look around. The best thing though is for us to chat directly. There are a couple of ways to do this. Look below this video and you'll find a place to fill in your details. The telephone number is also on the page if you prefer to call. Finally, I'm on Facebook messenger if that's easier for you – just click the Facebook messenger icon in the bottom right"
A longer message as you've now earned more of their time. On Facebook we were literally jumping in front of them and quickly introducing ourselves. Any more and we would have been an annoyance. Now they are on the page though we know they are interested in what we do and have the permission to talk to them a little more.
Keep it service focused – "I work with these people to help with these issues". Drop some examples, local ones especially. Try to record the video in the area as recommended before – the most relatable the better.
Then ask for action. If you set up Facebook Messenger as we covered earlier I'd recommend this being your priority but this will depend on you and how you prefer to communicate.
On the Thank you page we've done something similar. We yet again continuing the conversation. Remember that the people who call directly and those who message you on Facebook will not see the thank you page unless they also fill in their details – so we're not too worried about them.
Instead we are talking to those who entered their property details. We tailor the message to them:
"Great, thank you for sending in those details. I'll get to your message ASAP and then contact you in one business day. If you do for whatever reason want to talk right now though use Facebook messenger by tapping the icon in the bottom right OR give me a call on 012345912. Talk soon!"
Once you've recorded these two videos there's a final step. We can't just upload the videos onto our webpages. This is fine with text and images because text and images have very small filesizes. Videos however do not. If we put them directly on our page the whole page gets clogged up and slow.
Instead therefore we put them on a video straming platform like Youtube or Vimeo. Either will work for this. If you have a Youtube or Vimeo account great. If not then let's quickly set up a Youtube account for you.
Chances are you already have one. If you use gmail then you automatically have access to being able to upload to Youtube.
Head over to Youtube and login using your gmail account. If you don't have one you can make one super-quickly over at gmail.com. It'll be useful to have one anyway for Google Analytics which we'll be covering later.
Once logged into gmail head to Settings. It will be at the bottom of the left sidebar on desktop. Alternatively head to https://www.youtube.com/account directly.
Once here you'll have the option to create a channel if you don't have one already. Just name it the same as your property business. There's no real need to do any branding or anything additional here (yet) as we are simply using Youtube to host your videos for the website. If you want to come back and make your channel look nice later by all means do. Canva.com is again your friend here for design elements.
Once your channel is set up head to https://studio.youtube.com
This is the "backend" of Google where creators upload their content, see how views they have and (if they are running advertising) get paid.
We just want to upload our videos for now. Find this icon in the top right:
This opens the upload menu: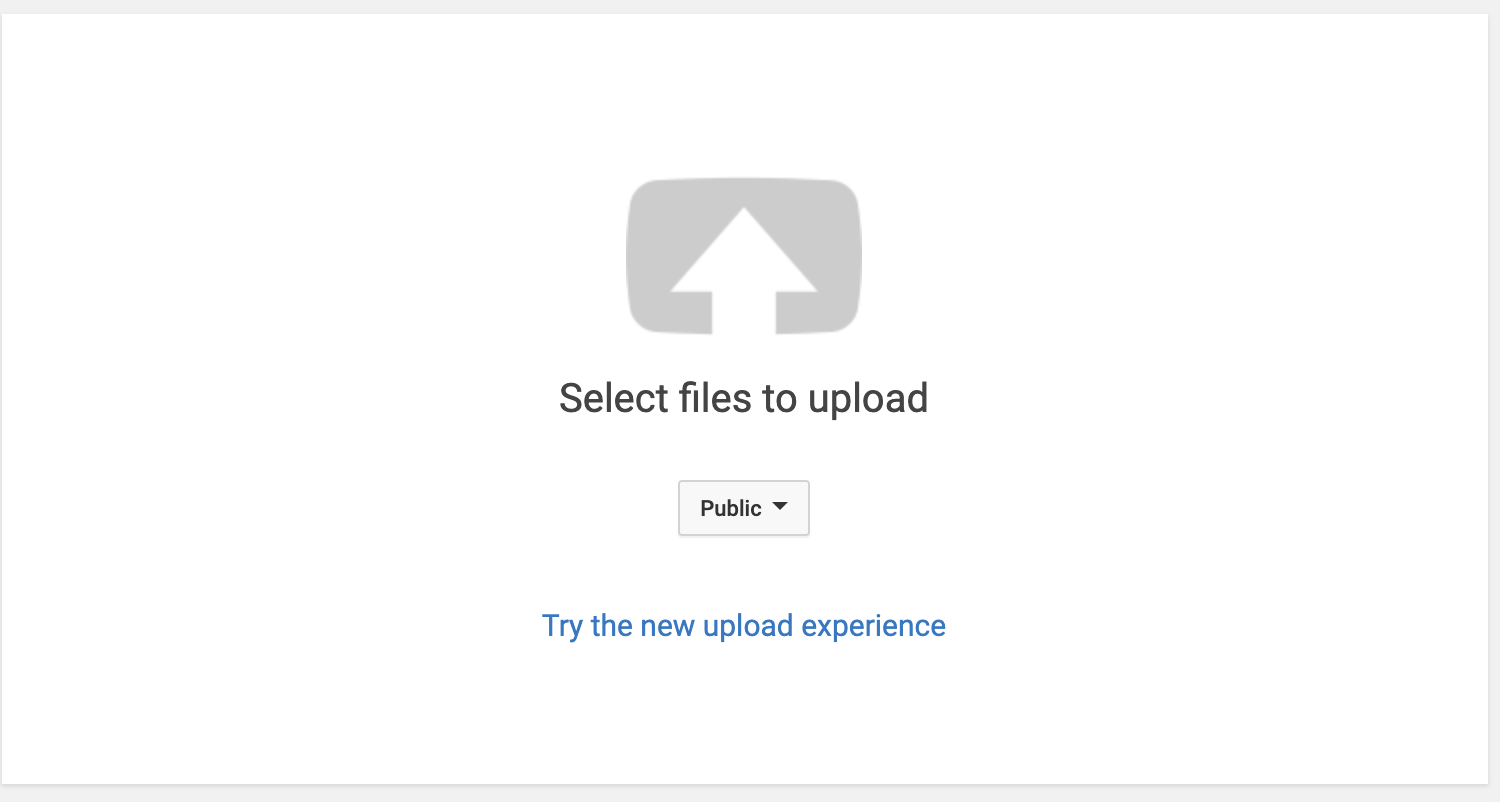 Drag and drop your video(s) or click the large arrow icon to select them from your computer's file menu.
Whilst you are waiting for the videos to upload you'll be given the choice to name the video, add a description and any other relevant information (1 in the below image) . Again, this isn't necessary for us as we are simply embedding the video in our webpage.
When the video(s) have uploaded make sure you click Publish (2) in the top right of the screen. This will make them visible.
Finally the important part. Check out the link (3) on the left hand side of the page. This is what we need to embed the video into our page. Click on the link to go to the live video's page.
On the video's page find the Share button:
Give it a click and the share menu will pop up like so: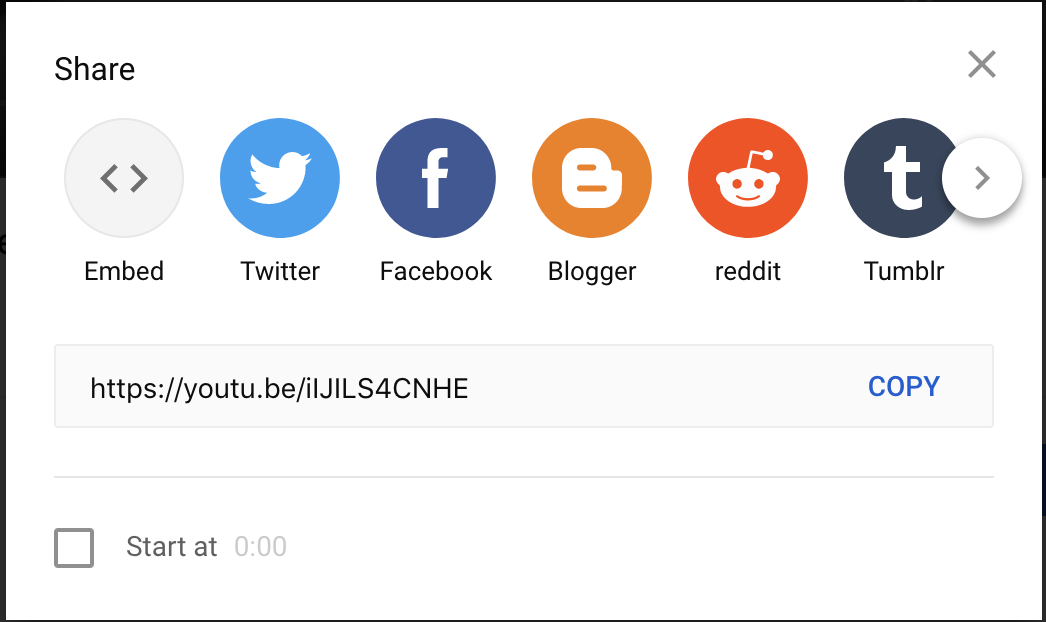 On this menu we are interested in Embed, the icon with the two square brackets like so <>. Click here and you'll see the embed options:
More code! Oh no!
Make sure that Player Controls is not ticked. This will make the video look tidier on your page and then click Copy in the bottom right. You've now got the embed code you need.
Back to Clickfunnels!
Find the video placeholder for the video you are currently working on. Don't mix up the main page and thank you page videos if you have both!
Click on the Video element in Clickfunnel's edit mode and you'll see this:
"iframe"…where have we seen that weird word before? Our embed code from Youtube!
Paste the embed code into this box in Clickfunnels. Save changes.
The video should now appear on your page. If it does not the most likely reason is you forgot to publish it earlier. Head back to https://studio.youtube.com and click Videos if you think this might be the case. If the video is still listed as Draft it hasn't been published yet. Click edit and publish it and then recheck Clickfunnels.
And that's it. Videos added. First we uncovered the secret video elements hiding in our existing template. Then we film two quick videos to continue the conversation with our visitors. Finally we uploaded those video to Youtube and embedded the video into our webpages. Phew!
Crunching the numbers : adding analytics
Want to learn through live lessons?
Join our popular Building Businesses Online Property Workshop!
As our traffic starts to increase it is useful to know what is working and what is not working. This is where analytics come in.
One of the great advantages of digital marketing vs. traditional marketing is that we get a lot more data. If you had a billboard up on the local highstreet you might know roughly how many people walk or drive past per day but you can't know if they look (engagement) or if they act on the information (conversion) at all.
With digital marketing we get all of this information and more. In fact some people reading this guide probably think we should have introduced this topic earlier. The reason we did not is because the information we get from analytics is not usable until we have enough data – and this means having enough traffic. We can have the most sophisticated system for measuring and analysing our data but if noone is coming to the site them it's moot – the system has no fuel.
Now that we have traffic coming in and we have already upgraded our conversions using Facebook messenger and on-page videos let's get the analytics set up.
You'll notice that you already have basic analytics in Clickfunnels. We looked very briefly at it during our Clickfunnels setup. We have page by page analytics that appear like so:
(From https://www.clickfunnels.com/blog/sales-funnel-metrics-dictionary)
Whilst this level of analytics is great it only tells us how the pages are doing. We aren't getting any information about how well our traffic methods are working.
For this we need to do a little more work. This is particularly important though when we start to get traffic from multiple sources. Let's say you are running 3 different Facebook Ads. You need to know which of the three is working best. For this we will install a Facebook pixel.
What about non-Facebook traffic? If you are getting traffic from Facebook, Instagram, Google, email marketing, other people's websites etc. then we need to know where these people are coming from. For this we install Google Analytics.
First, the Facebook pixel. Remember this allows us to see which Facebook posts are helping us get leads.
What is this pixel thing I'm talking about? It's just a piece of code we'll be copy/pasting into our website, much like we did when we set up Facebook Messenger previously.
First let us create a pixel in Facebook. Head to https://business.facebook.com/events_manager/

Click on "+ Add New Data Source" select Facebook pixel from the dropdown.
Give your pixel a name if prompted.
Choose Manually add pixel code to website.
On the next screen you'll see the code that we'll be copying to out Clickfunnels page: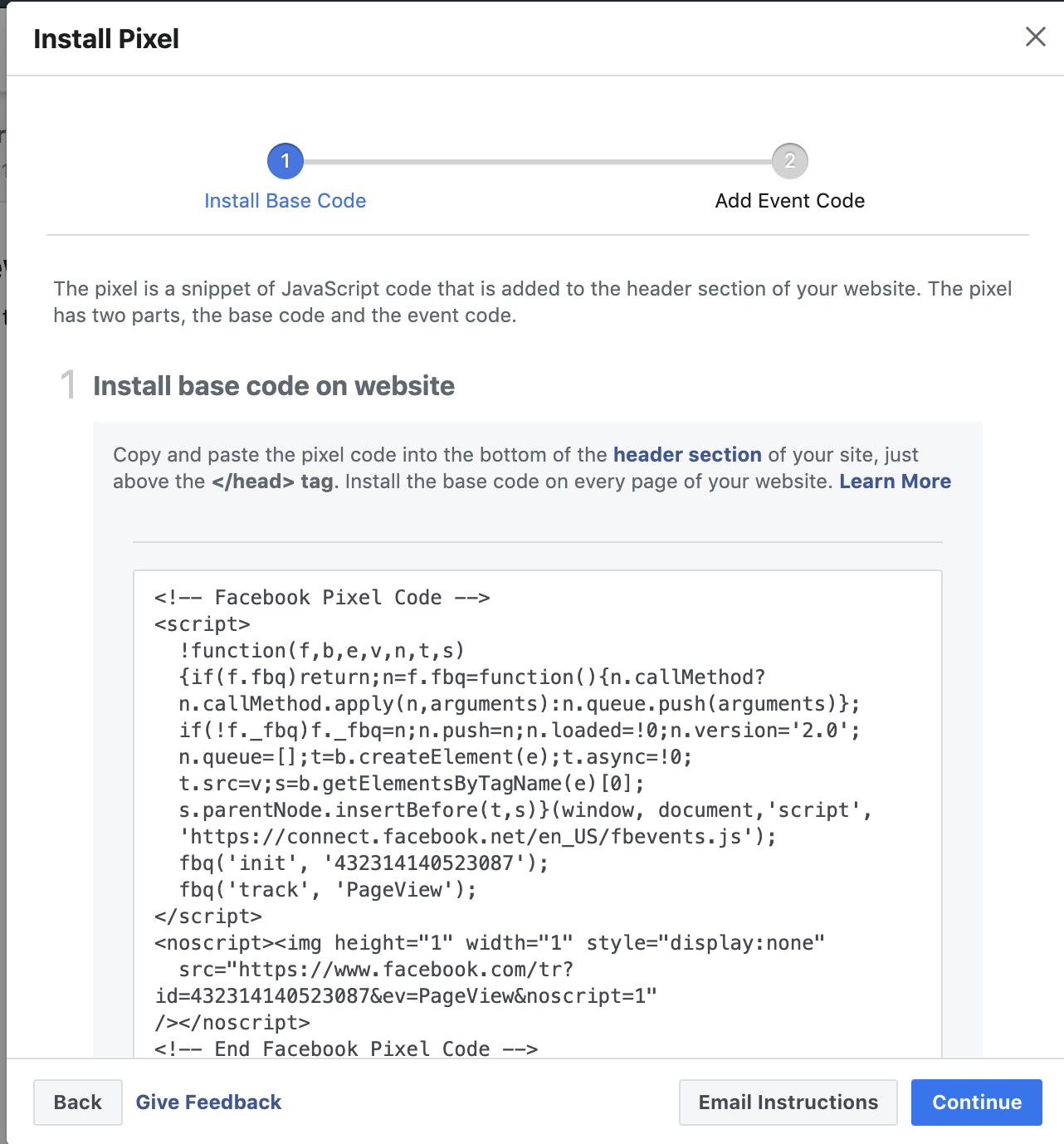 Head into Clickfunnels and into your We Buy Houses funnel. First choose settings in the top right (1) and then paste the Facebook pixel code into the "Head Tracking Code" box (2)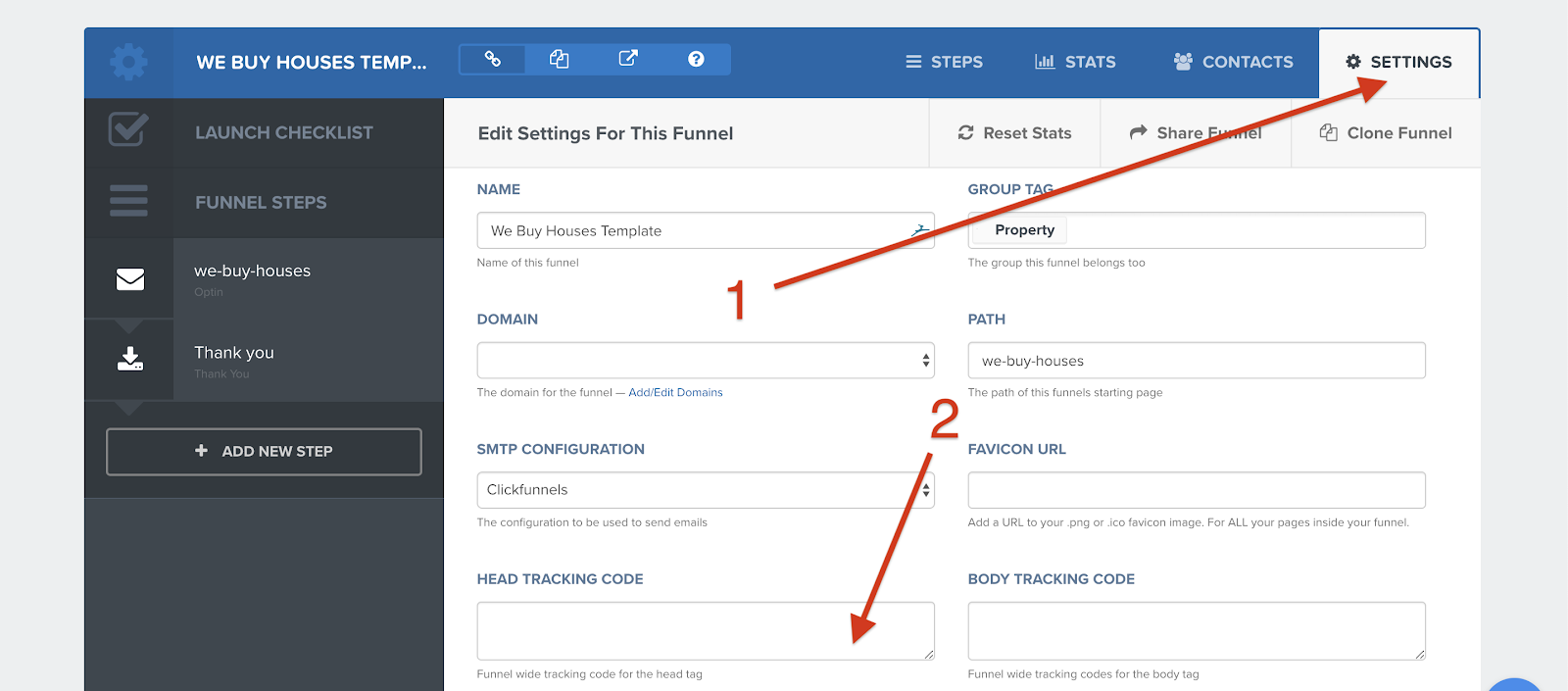 Save your changes. That's your base code installed. That piece of code will now appear on all of the webpages in your funnel. This allows us to track page views which is a great start.
However, we want to know specifically when someone has submitted their details to our form. For us this is a "conversion". We need to do one more thing to get this set up.
Back in the pixel main dashboard (https://www.facebook.com/events_manager/pixel/if you've got lost) find "Create Custom Conversion" in the top right of the page.
Lots to do on the next page. Here's a screenshot followed by the numbered to-dos:
Make sure website event is set to "All URL Traffic"
Click Add Rule. Use dropdown to select "contains" and type "thank-you" into the box (without the ""). Make sure you include the hyphen.
Give your conversion event a name. "Form submitted", "Form filled out" or something similar – this is just for your reference.
Set the category as "Contact". IF you know the value of a contact to your business enter in value.
Click Create to finalise the process.
All done.
If you followed through above you should be all set. However it's good for peace of mind to test the pixel.
We'll use a tool called Facebook Pixel Helper. You can download it for your particular browser here: https://developers.facebook.com/docs/facebook-pixel/support/pixel-helper/
It should be available for most modern browsers – Chrome and Firefox are the easiest here.
Once that is installed navigate to your live page. Find the Facebook Pixel Helper extension in your browser bar. You should notice it has lit up and has a number on it:
Look for the extension's icon – it'll be lit up blue with a number in green if it has found a pixel.
If you have AdBlock in your browser disable it on this page as it interferes with the Facebook Pixel Helper.
Once you click on Facebook Pixel Helper you should see the PageView event – if it's firing properly you'll see a green circle next to it.
Repeat this on your thank you page and see if there is a Contact event (in addition to the PageView). If so everything is working properly.
If you see a yellow exclamation mark chances are AdBlock is creating issues – make sure to disable it. If you are seeing other problems click Troubleshoot Pixel to get advice on what the problem is.
Now that you have your Facebook Pixel set up and tracking conversions (form submissions) you can now select it everytime you set up a new advert or boosted post. You'll be able to see not only how many people the boost sent to your website but also how many of them (what %) went ahead and contacted you using the form.
This method will not track people clicking on your phone number (on their phone) to call direct or people using the Facebook messenger. Both are possible but beyond the scope of this guide right now. We have the foundations set up for now which is sufficient.
What about traffic from outside of Facebook? Right now you won't be getting much but over  time you may find people finding your website via Google. We just won't be able to tell they are coming from Google searches. Still, this is a good problem to have!
For this reason we want to get Google Analytics set up. Additionally this will allow us to start compiling even more data about who is coming to our website so we can better tailor our message and design. Finally, if you do ever do Google Adwords (Google's version of paid advertising) then this data will be invaluable – the earlier we start collecting it the better.
Installation of Google Analytics is extremely similar to setting up the Facebook Pixel in the last step.
First head over to https://analytics.google.com and sign in with your Gmail. Follow the setup steps – they change quite often so it's best just to head to the site and walkthrough the basic instructions.
Once your basic account is set up and you are logged into the dashboard look on the sidemenu on the left and find Admin:
We're now going to add an account.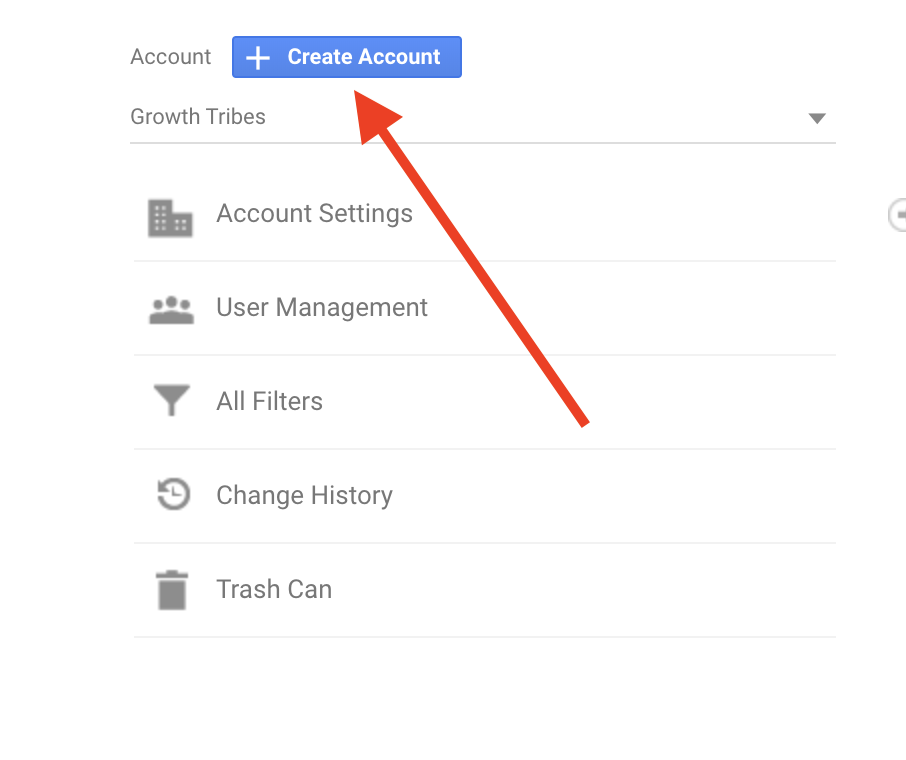 This will open up a new account setup process.
Enter the name of your website in the first tab.
In the second tab select Web.
In the third enter your website name, website url and the time zone you want to use.
The next page is where we get our tracking code.
You should be taken straight to this page. If not use the side menu to find Tracking Info / Tracking Code(1) until you find the code snippet like in the image above (2).
You know the process by now. We're going to copy paste that code over to Clickfunnels. Go ahead and copy it.
Log into Clickfunnels and head to the same place you added the Facebook code. Find your funnel. Funnels, Settings, Head Tracking Code: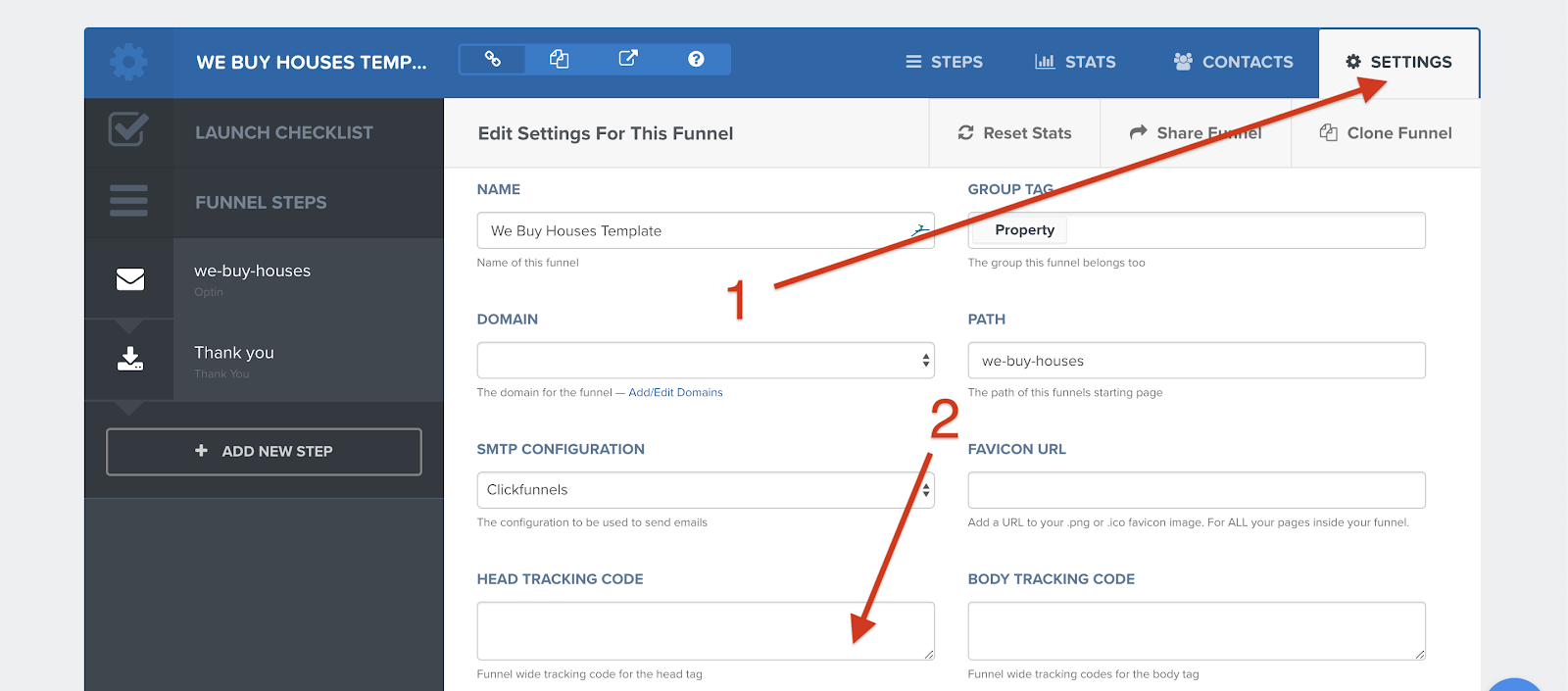 Now, we have to be careful here. We need the Google code to go ABOVE the Facebook code.
It'll look a little like this (but Clickfunnels doesn't by default allow such a long text area – I've expanded it to show the order). As long as you click at the BEGINNING of the text and then paste in the Google code you should be fine.
If you want to be safe click the beginning of the current Facebook code, hit Enter (return) a few times and then paste the Google code in the nice clear space at the top.
This isn't hard – but equally it's easy to make a small silly mistake here and for all the tracking to suddenly stop! So just be careful and you'll be fine.
Once this is done Save changes as usual. We're going to check that the Google code is installed properly. The easiest way to do this is back on the page where you saw the tracking code initially.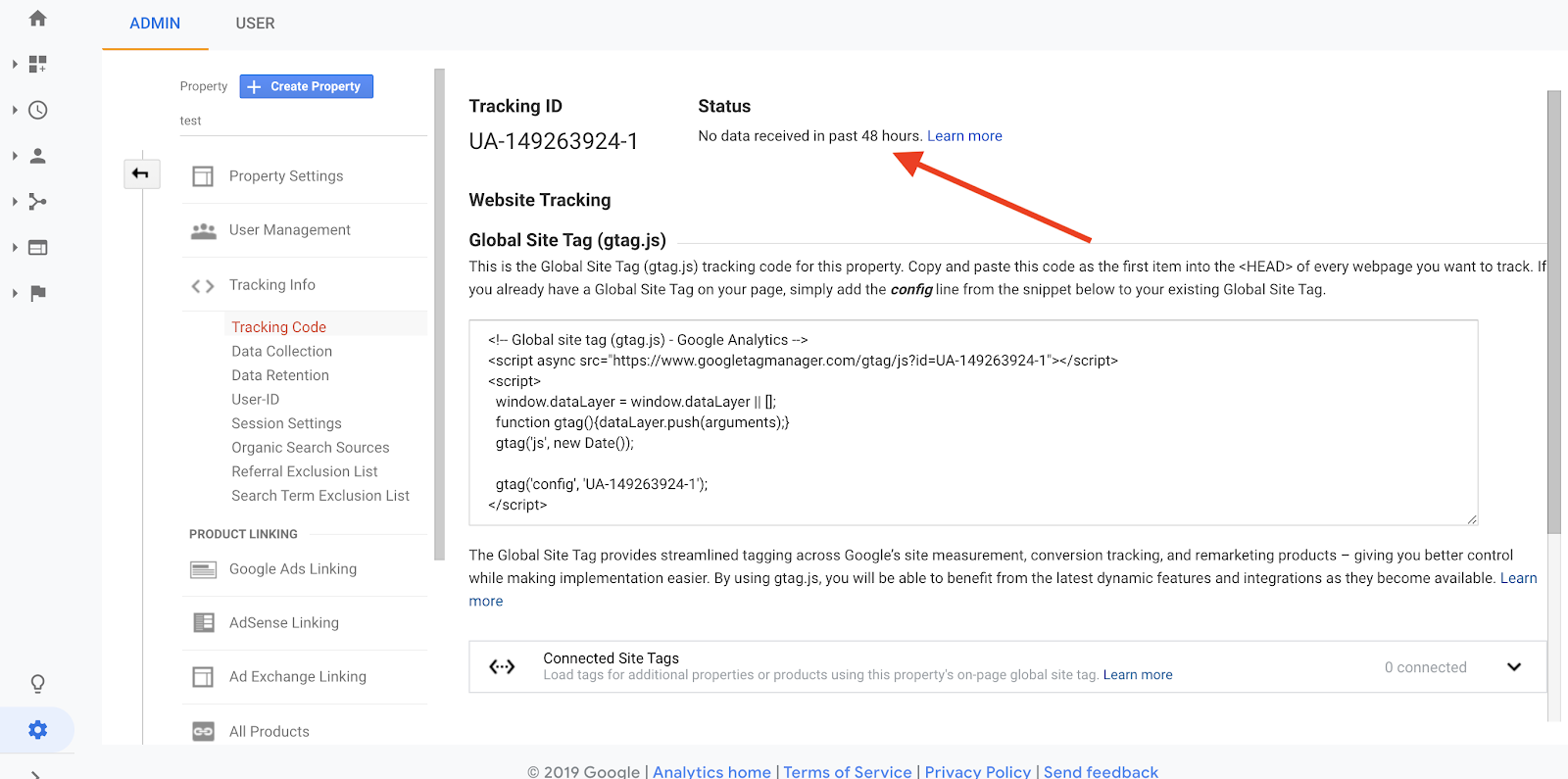 Initially you'll see something like this – No Data Received.
That's fine. Open a new browser window (or use your phone) and visit your website. If the code is installed properly the Status will change in Google Analytics to "1 visitor is on the site". If not try refreshing.
Once you see the live status updating to showing visitors (even if the visitor is you!) then Google Analytics is successfully set up on your website.
Right now we aren't going to set up Conversion tracking because it's again beyond the requirements of this course. You can do a lot of powerful things with Google Analytics but right now we have the basics set up so that data is being tracked and collected. Later when you need to use this data to scale up you'll have an advantage of several months or even years of data.
Right now the most useful application of Google analytics is found here:
Acquisition >  Overview shows you where your visitors are coming from and is the most useful piece of information Google can give you right now. Feel free to poke around though as there will be a wealth of info in there as you begin to receive traffic.
[1] https://en.wikipedia.org/wiki/Global_Internet_usage#Internet_users
[2] https://zephoria.com/top-15-valuable-facebook-statistics/
[3] https://www.millforbusiness.com/how-many-websites-are-there/